How Labeling Trends Will Support Manufacturing Trends in 2021
BY: DOUG NIEMEYER / DATE: 12/17/2020 / TOPICS: MANUFACTURING, ENTERPRISE LABEL MANAGEMENT, LABEL TRACEABILITY, PRINT AUTOMATION, REGULATORY COMPLIANCE, CLOUD LABELING
2020 will go down in history as one of the most game-changing years in modern manufacturing. The COVID-19 pandemic upended not only our personal lives, but every aspect of global and local economies. As 2020 comes to a close, it's time to look forward to 2021. Let's take a look at five major manufacturing trends that, while undeniably accelerated by the events of 2020, and will hold true for labeling trends in 2021 and beyond.
Cloud-hosted Technologies are on the Rise
Cloud-hosted technologies are no longer new and shiny. Cloud-hosting is now an expected part of a solution discussion: "Will this be hosted locally or in the cloud?" Thanks to maturing technology and improved security (surpassing local security standards), over 90% of enterprises already use a cloud service, according to Flexera's 2020 State of the Cloud Report.
How labeling software will support the adoption of cloud technologies in 2021:
Manufacturing Continues to get Smarter
Smart manufacturing refers to the ways in which businesses are harnessing the power of data within their facilities to optimize every aspect of the production process. Gartner estimated that, by the end of 2020, there would be 5.8 billion enterprise and automotive Internet of Things (IoT) endpoints in use. At the core of IoT is data, and barcodes and RFID are some of the most ubiquitous data carriers.
Here are three ways labeling software will enable smarter device communication in 2021:
Continued Efforts to Do More With Less
Industry has always strived to produce greater value out of fewer resources, but 2020 brought new meaning to the goal of doing more with less. When large segments of the workforce were suddenly unable to work in-person, businesses pivoted to continue achieving their goals with fewer staff on site. Necessity may have triggered the need to remove manual touchpoints from processes, but the trend of reducing human interaction within manufacturing is here to stay.
Implement these lean labeling trends in your labeling environment in 2021: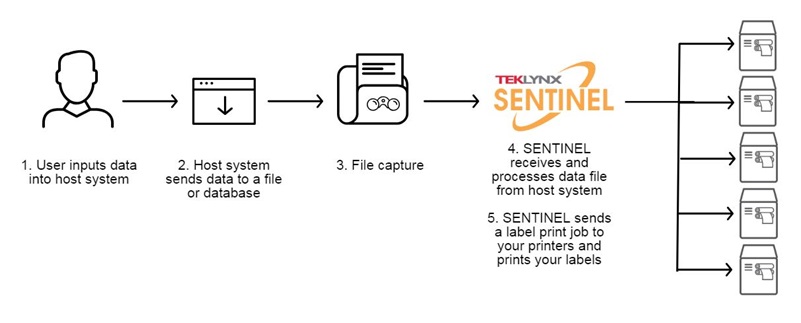 Implementation of Adaptable Solutions for Quicker Response to Changes
Perhaps the hardest learned lesson of 2020 was that systems weren't always up to the task of pivoting to meet the latest challenge. Food manufacturers suddenly had to shift from selling to restaurants and institutions to selling directly to consumers. This introduced the challenge of quickly getting the required nutrition facts and ingredients labels onto products that had previously not needed them. Although the FDA relaxed some labeling requirements, food manufacturers were still responsible for informing the consumers of critical information such as allergens.
Throughout 2020 and into 2021, businesses will place a stronger focus on resilient supply chains powered by adaptable software solutions. Here are a few ways your labeling software can help.
Companies Improve Trust through Greater Transparency
With more data at our fingertips than ever before, it's no surprise that consumers want to know more about the products they buy. Transparency about products is important to consumers: 70% of consumers are most interested in the social, health, environmental, and safety impacts of the product they buy (compared to the same impacts of the company that makes them), according to a report by the Consumer Goods Forum. Furthermore, transparency could save your business in the face of a crisis. 85% of consumers are more likely to stick with a business during a brand crisis if it has a history of being transparent, according to Sprout Social.
Transparency starts with the label, which must contain accurate and detailed information about the product. Labeling software has promoted transparency within the supply chain for decades, but in 2021, specialty 2D barcodes will pave the way for deeper consumer research.
Set your company up for success in 2021 and beyond by ensuring your labeling software is ready to support whatever 2021 throws your way! Want to talk to a TEKLYNX labeling software expert?
About Doug
Doug Niemeyer is the President & General Manager at TEKLYNX Americas. He leverages his 25+ years of sales & marketing experience in technology and leadership to help grow the business. His passion for leadership, insatiable curiosity, and competitive spirit help to drive success, encourage progress and development while ensuring teams hold positive customer experiences in the highest regard, all with the purpose of helping companies barcode better. When he is not working you can find him in a gym, on a field or golf course playing or coaching.
Subscribe to The Human Readable blog