How to Create Compliant Cannabis Labels On-Demand
BY: NICK RECHT / DATE: 08/27/2019 / TOPICS: CANNABIS, LABEL DESIGN, PRINT AUTOMATION, LABEL TRACEABILITY, COLOR LABELING, REGULATORY COMPLIANCE
The cannabis industry is currently the fastest growing industry in the United States (US). With rapid growth in the emerging cannabis market comes confusing regulations for cannabis cultivators, processors, and dispensers. Without a national governing body or federal regulations in the US, cannabis industry professionals are faced with meeting regulations that vary state to state. Keeping up with this fast-growing market can be overwhelming with the frequently changing labeling regulations and tracking from seed to sale, but TEKLYNX software can help with that. How? On-demand cannabis labeling.
Download a free 30-day trial of CODESOFT RFID and barcode label software to start creating your cannabis labels. State-specific cannabis label templates are available in the latest version of CODESOFT, so you can easily pull in data and print cannabis labels quickly.
How On-Demand Labeling Can Help You
On-demand labeling sets your company up for success with labeling efficiency, accuracy, and flexibility in the short and long-term. On-demand labeling is specifically helpful in the cannabis labeling world because of all the regulations you must comply with. Each state has their own regulations, which means each label throughout the cannabis supply chain must be compliant with whichever state they are located. With on-demand labeling, cannabis cultivators, processors, and dispensers can print labels as needed and make changes as they go without the risk of wasting obsolete pre-printed label stock. This is beneficial as pre-printed labels often have large minimum order quantities. On-demand labeling also helps companies maintain better control of their own branding and graphics. Below is a quick example of the difference between a few compliant cannabis labels: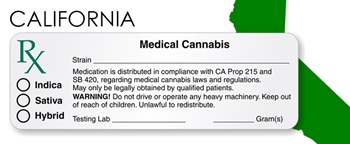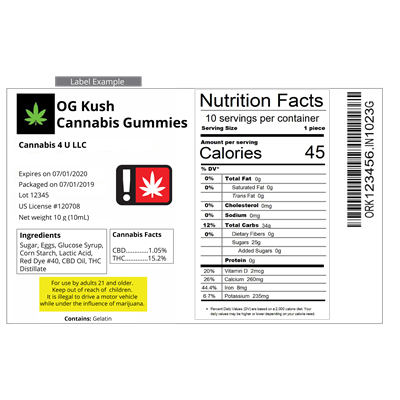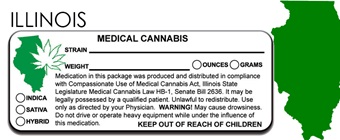 Cannabis labels for many US states are similar in design and concept, however there are important differences in the required data. Illinois cannabis labeling allows you to choose to display the weight in ounces or grams. California cannabis labeling requires the weight in grams, as well as the name of the testing lab. With on-demand labeling, label information can be populated by using pre-approved label templates in order to save you time with the variations of cannabis labels. This gives you the ability to print the specific label you need without having to waste your pre-printed label stock, or spend time switching out your pre-printed label stock in your printer.
Learn more in our eBook, On-Demand Labeling for the Cannabis Industry.
How You Can Create Cannabis Labels
TEKLYNX advanced barcode labeling solution, CODESOFT, integrates seamlessly with over 3,000 thermal, thermal transfer, and color printers, and virtually any type of database in order to help you barcode better and design all state regulated labels for your cannabis products. Our software also integrates with state-mandated reporting tools such as Metrc or cannabis seed-to-sale software like BioTrack, to ensure that all data is submitted to the states from seed to sale and it appears accurately on your labels.
Download a free 30-day trial to start creating your cannabis labels with CODESOFT barcode label software.
Need some help getting started or finding the right product for you? Get in touch with a labeling expert to help!
About Nick
Nick Recht is the Sales Manager for the Americas region at TEKLYNX, RFID and barcode label solution provider. He leverages his passion for using technology to add value to businesses and his 12 years of AIDC experience to help organizations of all sizes barcode better. When he is not working, he is driving one of his daughters to a practice of some sort or making/sampling beer from his garage brewery.
Subscribe to The Human Readable blog