How to Make Your Product Labels Stand Out with Images
BY: TRAVIS WAYNE / DATE: 12/02/2021 / TOPICS: CANNABIS, FOOD & BEVERAGE, RETAIL, LABEL DESIGN, COLOR LABELING
You've created a great product and made it to store shelves! Your hard work is starting to pay off, and now it's time to make sure you're setting your product up for the commercial success it deserves. Designing an attractive and professional product label is the best way to make sure your product stands out, and images are a great way to do just that.
TRY CODESOFT LABEL DESIGN SOFTWARE
First impressions are important, and your product label is the key to that first impression. But your product label is more than a "pretty face" – it tells your brand story, builds consumer trust, and differentiates your product from the competition. A confusing or amateur product label can sabotage these goals and steer your customers to the competition. This blog will share how to make your labels stand out by incorporating images into your product labels.
Choosing the Right Images for your Product Labels
The images you choose tell your brand story. They may literally describe your product or convey a meaning that symbolizes your brand. Before jumping right into your label design, take some time to brainstorm the right types of images to include on your label. Consider the following:
What style matches your brand? You wouldn't use a black and white label on a children's brand, and you wouldn't use cutesy artwork on an athletic performance brand. The right style communicates to your customer what your brand is all about.
Clean and minimalist: Choose simple illustrations like line drawings and stick to neutral colors.
Colorful and bold: Choose bright complementary colors, chunky designs and fonts, and experiment with collaging photos and illustrations.
Polished and professional: Choose dark colors, serif fonts, and a simple layout that's consistent across your product line.
Homemade and rustic: Choose images that highlight the uniqueness of your product; a less polished image can work in your favor.
What's the right color scheme for your brand? Colors have powerful subconscious associations, so it's critical to do your research. Keep in mind that these associations are cultural and may be different in various locations or cultural groups.
Red: strong, confident, dangerous, angry
Orange: playful, energetic, optimistic
Yellow: cheerful, refreshing, alert
Green: natural, organic, healthy
Blue: trustworthy, soothing, friendly, sad
Purple: loyal, mysterious, elegance
Source: Adobe's Guide to Color Meaning
Image quality tips:
Make sure your digital artwork has a sufficiently high resolution for your printing method. If your printer prints at 300 DPI (dots per inch) and your image should be two inches by three inches, your artwork needs to be at least 600 pixels by 900 pixels. If you have a high DPI printer or sell a large product, (or both!), you may need a very high-resolution image.
An image with a transparent background gives a much more professional impression than an obvious white square background. Start your design on a transparent canvas or use a graphic design tool to digitally remove the background. Save the image in a file format that supports transparency, such as PNG.
Generic clipart that comes pre-loaded in design applications is usually a dead giveaway for an amateur label. Avoid generic clipart at all costs and invest in a graphic designer or artist to provide a unique image for your unique product.
Incorporating Images on your Product Labels
The image is a vital part of your label, but it's not the only important part. Your product label must also accurately identify the product, its variety, and any legally required information. Most stores also require a 1D or 2D barcode to enable cashiers to quickly scan the item at checkout.
Graphic design software is the best tool for designing your images, but it can't replace a professional label design tool for managing variable data, generating compliant barcodes, and ensuring accurate label printing. CODESOFT label design software makes it easy to link your artwork files to your label template. Here's how:
Background images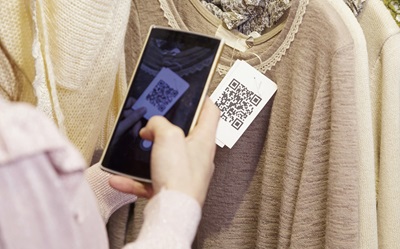 If your image covers most of the printed label and doesn't change with the variety, use the background picture feature in CODESOFT. Go to File > Properties and select Extended. Check the box for Background picture and browse to the file location. Configure the settings and click OK.
Remember to leave room in your background image for the variable data that will be added by your label design software. This could include the product variety, product weight, ingredients list, nutrition facts, safety statements, and barcode for checkout. Many companies are now including a consumer scannable QR code to bridge the physical and digital brand experiences and offer more information to savvy customers.
If you need to make changes to your background image, simply re-save the final image in the same location with the same name as the original image. CODESOFT will read the new image and automatically update the label design.
Variable images
If your image is only a portion of the label or changes with the variety, you may want to add the image as a regular object. Once the image is added and placed, it can even be locked so you don't accidentally move it while designing the rest of your label.
Any object on your CODESOFT label can be variable – even images. Variable data is generally stored in a spreadsheet or database. While the image file itself is not usually saved in the database, the file path to its location can be stored as text. When you select the database record you wish to print, the image in the associated location will be selected.
Printing Product Labels with Images
Although many small businesses outsource their label printing, there are countless benefits to printing labels in-house.
Speed to market: Working with an external vendor for labels means waiting for development, proofs, edits, and shipping time. Miscommunications and vacation schedules can add even more delays to the process. Designing and printing your labels in-house eliminates all of this, enabling you to label and ship your products much more quickly.
Less label waste: External label vendors typically have an order minimum, and it's not usually very low. You may be forced to purchase thousands of pre-printed labels. If your packaging size changes, address or contact information changes, or your brand evolves, you're stuck with tons of labels you can't use. When you print your own labels, you can print exactly what you need when you need it, eliminating label waste.
Control: No one knows your brand and products like you do. An external vendor simply can't have the same level of attention to detail as you. Designing and printing your own labels gives you the control to tweak and improve your design until you're 100% satisfied.
Some businesses try to have the best of both worlds with a two-step label printing process: a background design printed by an external vendor, and variable data printed on top of the design in-house. This method is just as risky as outsourcing the entire process, as it can result in the same time delays, label waste, and unmet quality expectations.
Once you've decided to print your product labels in-house, you'll make an upfront investment that will pay off in the long run: label design software, a quality label printer, and the appropriate label media.
Label Design Software for Product Labels
Choose a professional label design software with the features you need to create product labels that stand out. The top of your list should be CMYK and RGB color support, powerful variable data tools, and embedded native printer drivers for top printing quality with all popular color label printers.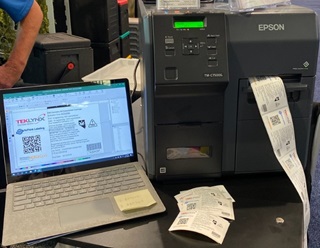 Color Label Printers for Product Labels
An investment in a quality color label printer is an investment in your brand, signaling quality and professionalism to your target customers.
The Epson ColorWorks line of color label printers offers a range of options for all budgets. With impressive stats such as five inches per second print speed and 1200 DPI print quality, Epson has staked a position as a color labeling leader.
The VIPColor VP line of color label printers is another top-quality option for your product labels. Boasting water-resistant dye-based inks, VIPColor label printers should be a contender for companies in the personal care or refrigerated goods spaces.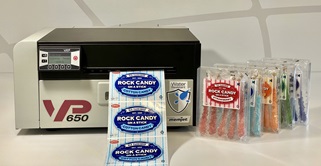 Don't forget about the importance of choosing the right media, or label paper, for your product labels. The media availability may be dependent on your printer choice, so be sure to do your research. Does a glossy or matte label highlight your images best? Does your brand value the rustic quality that a thick, textured paper conveys? Are you an eco-friendly brand that values recycled or recyclable label media? Will your products be used in hot, cold, humid, or dry conditions that require special label media?
CODESOFT Label Software for Product Labels that Stand Out
When you need to design product labels that stand out, CODESOFT is the best label design software to meet your needs. CODESOFT includes:
Support for all common image file formats, including .jpg, .png, .gif, .eps, .tif, .bmp, .pdf, and more
Background image feature
Support for CMYK and RGB color selection
Powerful variable data tools for text, barcodes, and images
Embedded native printer drivers for over 4,000 label printers, including color label printers
Retention of personalized settings with each version upgrade
In addition to these powerful features, CODESOFT users have access to TEKLYNX award-winning customer support. With industry-leading customer support policies, TEKLYNX strives to meet and exceed our customers' high expectations for quick, effective, and friendly support.
CODESOFT is free to try for 30 days. Download your trial today and see how you can make your product labels stand out.
About Travis
Travis Wayne is the Product Manager at TEKLYNX. Travis applies his 20+ years of IT and health sciences experience to empower businesses to streamline operations and barcode better by applying software and technology. He works to continually improve TEKLYNX' strategic planning, product and project management principles, and cross-functional communications. When not working, he enjoys many outdoor activities with his wife and two children.
Subscribe to The Human Readable blog