Barcode Labeling Tips for Small Businesses
BY: JENNA WAGNER / DATE: 11/22/2022 / TOPICS: CANNABIS, FOOD & BEVERAGE, RETAIL, LABEL DESIGN
Small Business Saturday is an important event for small businesses each year! During one of the busiest shopping periods of the year, barcode labeling for your small business shouldn't be stressful or take up too much of your time. This blog will cover barcode labeling tips for small businesses no matter where you're at with your labeling process – handwriting labels, purchasing pre-printed labels from a vendor, or using software to design and print labels.
If you're not already leveraging TEKLYNX barcode label printing software for your small business, get a quick product recommendation with our interactive tool.
Choose barcode label printing software that grows with your business
If you're outsourcing your labels, consider lead time and label waste in your process. When you're outsourcing, the steps from submitting brand information to finally receiving your labels (at large quantities) can take days or weeks, potentially creating a bottleneck for your product sales. Also, any changes in your product or business that require changes to your labels, such as an expansion of products sold or changing regulations, may result in wasted money and label stock, as well as the additional cost to design, update, or print new labels.
Bringing label printing in house can cut costs and set your small business up for success in the long run. When you launch a new product, having in-house label printing allows you to have the new product available to the customer faster without having to contact your label vendor and wait on ship time.
Whether you need to create simple labels with text, images, and barcodes, or more complex labels due to scalability or label regulations, it's important to find a software provider with solutions that work best for your small business now and into the future:
Worried about budget?
TEKLYNX Subscription Licensing is a cost-effective solution that offers more predictable software costs and discounts for multi-year subscription license options. With free unlimited training webinars and priority technical support, plus free version upgrades, you'll always be on the most up-to-date software at no additional cost.
Tips for when you're busy… work smarter, not harder
As a small business owner or employee, you're likely wearing multiple hats. One of those hats might be the IT department overseeing the installation of computer software. Rest easy, you don't need a technical background to use and benefit from the TEKLYNX barcode labeling solutions.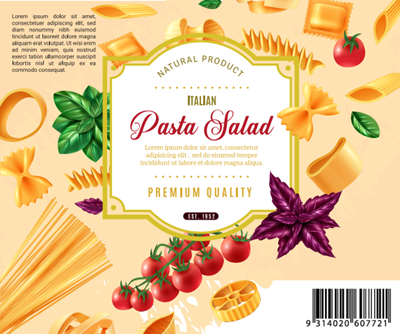 Our products were designed with a familiar Windows user interface, so you can easily get started with these barcode labeling tips:
Design labels using intuitive step-by-step wizards

Leverage pre-made label samples and templates included within the software

Add high-resolution images and color to your labels with our color picker for exact RGB or CMYK color matching

Simplify or eliminate manual data entry onto labels by:

Connecting your spreadsheet or database your label template so you can simply select relevant records at print time
Creating custom label printing forms when manual data entry is unavoidable to get accurate data onto your label at print time
Gathering data automatically from a scale or scanner with PortWatch

Create dynamic labels for cases, pick lists, bills of material, or purchase orders using GridField
Plus, our software includes built-in label conversion, meaning your label files are forward-compatible and you can move from LABEL MATRIX to LABELVIEW to CODESOFT as your labeling needs change without having to redesign any labels.
Use case: Local meal delivery service goes from handwritten labels to printing on-demand
The Real Good Life wanted to implement label printing software that could support their growing labeling needs, create accurate labels for their delivery bags and food packaging, eliminate manual processes, and provide technical support along the way. Their original labeling process was completely manual – i.e., writing on a label with a sharpie – and no longer met their requirements.
The Real Good Life's implementation of LABELVIEW led to:
Completely eliminating manual labeling processes

Reducing labeling errors with an organized labeling process

Gaining efficiency with user-friendly software that required little to no IT involvement

Positioning themselves to grow with a scalable labeling solution
To read more about The Real Good Life's experience, download the full case study.
Lean on your technology partners when you hit a bump
At TEKLYNX, we offer monthly product training webinars on a variety of topics, short TekTip videos on how to use different features, and an online Support Center full of articles covering frequently asked questions. We also have a services starter pack for new label design software users offering assisted installations, customized training, and guided label creation. Plus, you can work worry-free knowing TEKLYNX Customer Support is here to help! Our barcode labeling solutions help small businesses work, but it's the people behind the products that make them work better and keep our customers happy.
"Javell diagnosed our problem and walked me through how to fix it within three minutes. That is the kind of support you dream about. He made it so quick and easy." – Brad Pikcilingis, Candy Kraft Candies
Our customers in North, Central, and South America, Australia, and New Zealand can give us a call at +1 888-629-4444 and get a live person on the line from 8 AM to 5 PM (U.S. Central Time) Monday - Friday. For TEKLYNX customers in other regions, view our Global Locations page for contacts in your region.
Download your free 30-day trial to see our barcode labeling software in action and start printing labels for your small business today. You'll have access to technical support throughout your trial, so don't hesitate to reach out with any questions!
About Jenna
Jenna Wagner, Global Marketing Director, is a successful strategic marketing executive with over 20 years of marketing experience in software technology and consulting services. She is a creative, dynamic, results-driven leader who possesses a passion for developing her teams. She leverages her deep understanding of the solutions and industries she serves to deliver impactful customer value throughout the global supply chain to help organizations barcode better.
Subscribe to The Human Readable blog