Choosing the Best Barcode Label Printing Software for Small Businesses
BY: TRAVIS WAYNE / DATE: 12/19/2019 / TOPICS: LABEL DESIGN
Barcode label printing software offers an array of benefits to businesses of all sizes. Greater efficiency and flexibility in the label design and printing process is the reward for businesses that invest in barcode label printing software.
FREE BARCODE LABEL SOFTWARE TRIAL
Small business owners may wonder if the benefits of using barcode label printing software to print labels on-demand outweigh the convenience of purchasing pre-printed labels. For businesses producing small batches and multiple varieties of products, the answer is a resounding "Yes!"
So, how should a small business owner choose the best barcode label printing software? Consider your label printing needs today, but don't forget to look to the future. Follow these eight tips:
Does the barcode label printing software meet the needs of my small business today?
1. Choose label printing software with an easy-to-use interface & barcode label design wizards
The average small business doesn't have a large IT team, so your barcode label printing software shouldn't require an IT background to operate. Look for a label software with a familiar Windows® interface and easy-to-understand icons and toolbars. The best barcode label printing software for small businesses has wizards, or step-by-step instructions, for adding text, images, and shapes to your labels. TEKLYNX label design software solutions include helpful wizards and a familiar, easy-to-use user interface.
2. Make sure your barcode label printing software supports your printer
It's crucial that your barcode label printing software works seamlessly with your label printer. Look for label software that has native printer drivers for your specific printer brand and model.
Windows printer drivers are generic drivers built to work with any software and may deliver lower quality results when used with your label printing software.
Native printer drivers are developed specifically to streamline communication between your label printing software and your label printer. These specialized drivers are developed in partnership between the printer manufacturer and the software provider.
Are you using more than one printer? Choose a barcode label printing software that allows you to print to unlimited printers without charging you more for your software!
3. Easily generate barcodes with wizards
Generating barcodes for your labels doesn't have to be intimidating. Small businesses should look for barcode label printing software that has built-in barcode wizards. For example, CODESOFT includes barcode generating wizards that make it easy to create and edit GS1 barcodes.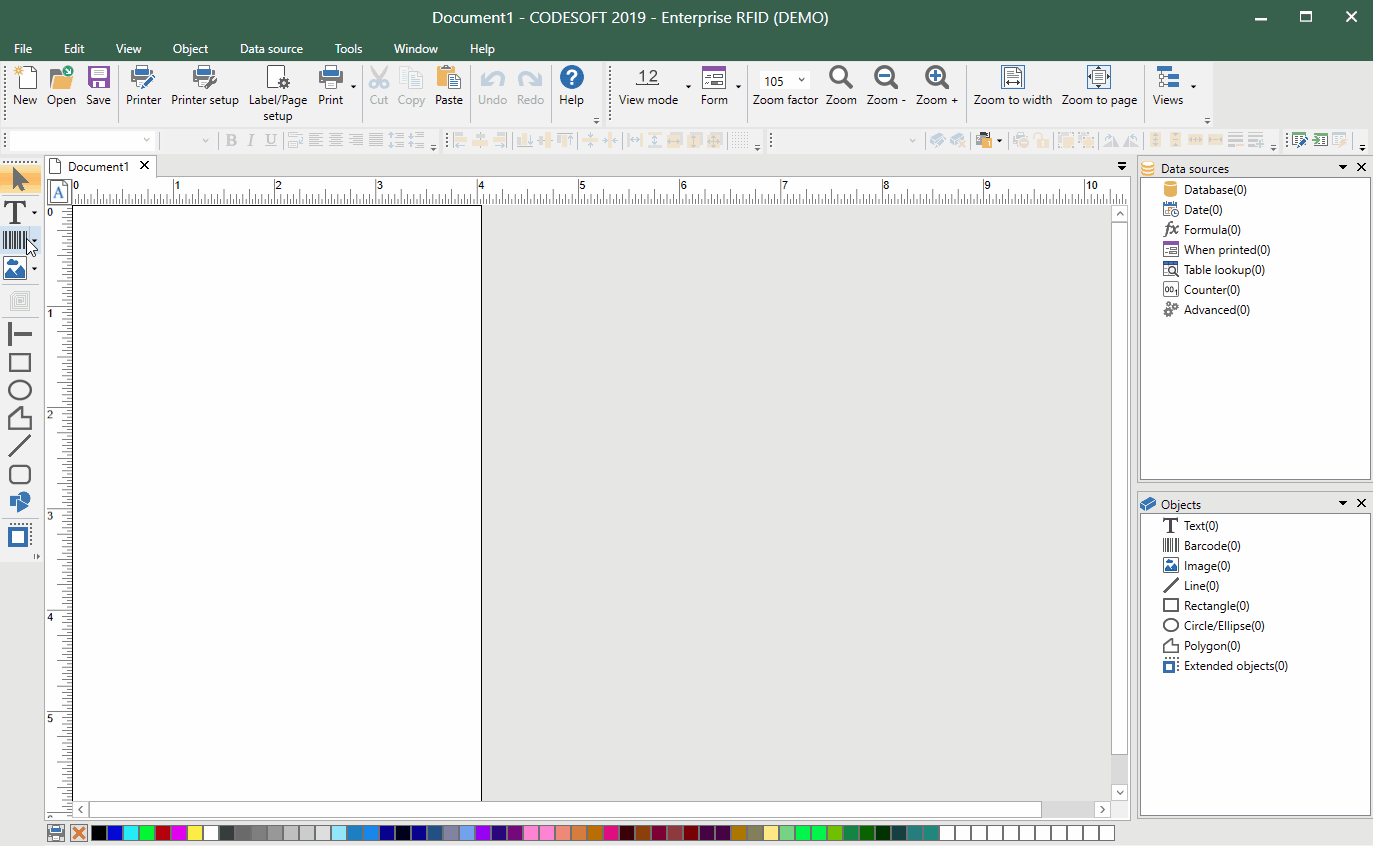 4. Leverage simple database connections
Your small business may already have a spreadsheet or database of product or order data. Connecting your label designs to your business spreadsheet or database allows you to print variable data, such as product names, product varieties, SKU numbers, prices, addresses, and more onto label templates. Using a database connection significantly increases the efficiency of your label printing process, while decreasing the risk for errors. The best label printing software for small businesses, such as LABELVIEW or CODESOFT, provides a database connection wizard to make it easy.
Will the barcode label printing software meet my needs as my small business grows?
5. Choose a company with label software for all levels of complexity
Different barcode label printing software packages offer different features and capabilities, but which one is right for your small business?
If you're printing labels with static text and barcodes, and no variable data, LABEL MATRIX is a good starting point.
If you are connecting to a spreadsheet or database and adding variable data to your labels, LABELVIEW offers helpful wizards and an intuitive interface.
If your small business is in a highly regulated industry, like healthcare, chemical, or food, consider CODESOFT to enable stricter security and integration with regulatory systems.
Compare features of TEKLYNX barcode label printing software
Whatever software package you choose, make sure you choose a software provider who makes it easy to move up to the next product level. Label files should automatically and seamlessly convert as you move up the product levels.
6. Consider subscription licensing for a lower cost
Small businesses need to keep operating expenses low in order to maintain good profit margins. Subscription licensing for barcode label printing software offers a lower cost of entry while enabling greater flexibility as your business grows. Imagine these two scenarios:
Scenario A: Perpetual License

Scenario B: Subscription License

Your business buys a:
Perpetual license of Software X for $499
Subscription license of Software X for $229 per year
You pay an additional annual fee of $159 for technical support, training, and version upgrades
Your subscription license includes priority technical support, training webinars, and no-cost version upgrades
Software X works for your current needs, and you're happy with your decision for the first 2 years. After 2 years, your labeling needs have grown, and you need to move up to a more robust software package: Software Y.
You upgrade to Software Y for $599
You upgrade to Software Y for $419 per year
Your total cost over 3 years: $1575
Your total cost over 3 years: $877
Request a price quote for Subscription Licensing
7. As your business grows, use network licensing
Today, your small business may only need one installation of your barcode label printing software. You might have just a few employees who need to use it, and one shared PC where the software is installed. As your small business grows, especially when expanding to a second or third location, you might purchase additional single-user installations of the software for each workstation PC. Suddenly, you're managing multiple versions of the same software, each with their own renewal date and maintenance schedule. Instead of buying multiple single-user licenses, network licensing allows you to manage multiple users from one license manager. Upgrades and renewal dates are synchronized, making your life easier.
8. Choose a knowledgeable barcode label printing software provider who has your best interests at heart
Every small business is unique, and while you can gather a lot of information on a website, make sure you speak to a labeling software expert before making a decision. Speaking to a knowledgeable label software expert lets you be confident that you're making the right decision. You can also get a feel for the software provider's values: are they invested in your labeling success, or are they just looking out for their bottom line? Choose a barcode label printing software company that has your best interests at heart and prioritizes customer support.
Ready to find the best barcode label printing software for your small business? Download a free 30-day trial or get in touch with the labeling experts at TEKLYNX today.
About Travis
Travis Wayne is the Product Manager at TEKLYNX. Travis applies his 20+ years of IT and health sciences experience to empower businesses to streamline operations and barcode better by applying software and technology. He works to continually improve TEKLYNX' strategic planning, product and project management principles, and cross-functional communications. When not working, he enjoys many outdoor activities with his wife and two children.
Subscribe to The Human Readable blog