Why In-House Label Printing is the Best Option
BY: TRAVIS WAYNE / DATE: 04/17/2020 / TOPICS: LABEL DESIGN, ENTERPRISE LABEL MANAGEMENT, COLOR LABELING
A constant theme in today's manufacturing world is the need for automation. Manufacturers want to remove manual processes and eliminate errors wherever they're occurring to create greater efficiencies and gain control at various stages of the supply chain. Labeling operations are a critical component of production that should be evaluated for areas to gain these desired efficiencies. The question now becomes - do you outsource your barcode label production, or bring it in house? In-house label printing is the far more efficient and cost effective option when it comes to your labeling environment.
There are certain things you should keep in mind when deciding whether to bring label printing in house.
Things to consider when it comes to outsourcing labels…
When you're outsourcing your labels, there are certain things you should consider that could be potentially harmful and wasteful to your company. One major consideration is lead time. Outsourcing your labels can be a lengthy process; from submitting your branding information, going through the back and forth review process, submitting your order, executing the order, then the long-awaited shipment time, and finally receiving your labels. These steps can take days, or even weeks, potentially putting production on hold.
Today, manufacturers strive for control. When outsourcing labels, you're surrendering control over a critical element of your business in terms of your company and its branding. These can range from specific product colors and logos to text and verbiage, inadvertently allowing room for error. If an error does occur, you're back to square one, which in turn can increase your wait time and cost.
Another thing to consider is looking to decrease label waste within your process. When you're outsourcing label printing, you essentially surrender the option to make any changes to your labels once they're ordered and shipped to you. It's likely that when you order your labels, you do so in large quantities. If something changes in your product or environment that requires a labeling change, such as expansion of products sold or changing regulations, it may require the purchase of new label stock. This means that your remaining stock is now an (expensive) pile of waste.
3 reasons why organizations are bringing label printing in house
1. Cost Reduction
When bringing label printing in house, you're saving your company from recurring consumables and services expenses. As described above, outsourcing your labels can be an expensive process and transitioning to in-house label printing can cut costs.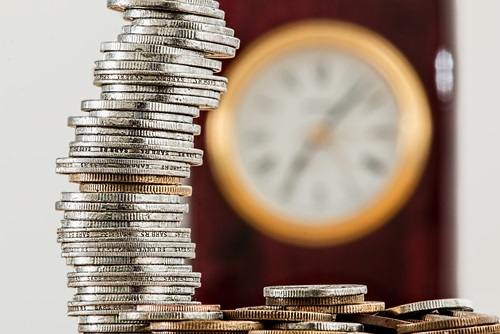 A two-step label printing process seems like an attractive compromise, but it still leaves your company vulnerable to waste in the same way a fully outsourced labeling process does. Using a two-step label process puts your labels at risk for print misalignment when printing over a pre-printed template. This produces unnecessary label waste and related costs. Keeping a large inventory of pre-printed color labels can also get complicated when your company is seeking to redesign its branding or re-tooling its products. When one small change is necessary, your entire label stock is obsolete and your company will have to absorb the cost for inventory, on top of the cost of ordering new labels.
Color label printing is becoming more and more prevalent, enabled through cost-effective options for color label printers and color label printing software, such as CODESOFT, with CMYK color definition.
Another factor to keep in mind with two-step label printing is being fully compliant with any industry regulation that your company may need to follow. For instance, certain Globally Harmonized System for Hazard Communications labels, better known as GHS labels, have specific pictograms needed on their labels. This is also the case for cannabis labels, where each state has specific labeling regulations that may require color. Both of these must be exact when placed on any labels. The problem with this is industry regulations are prone to changes and when that occurs, it deems your labels waste and you'll have to once again re-order new stock.
2. Scalability
In any business, it's important to always keep in mind the potential growth of your company. Being prepared at every turn can only set your business up for success. When you launch a new product, having in-house label printing allows you to have the new product in production and to the customer faster. This eliminates the steps of contacting your vendor, having your new labels approved, and waiting on ship time.
Organizations opening new locations, acquiring or merging with other organizations will find greater flexibility in their labeling environment by having the control of an in-house labeling process. Rolling that standardized process out to new facilities creates a much faster path to ROI.
Growing organizations may also be looking to scale into an enterprise label management solution to better equip its labeling environment with automation, traceability, and centralized labeling abilities. If you have a clear transitional path between your current and future barcode labeling application, future transitions will be more seamless. Selecting this kind of a scalable solution can easily grow with your business and adjust to new technology, such as printer drivers or operating systems. When you have an in-house label printing environment, you're set up for a smoother transition to an enterprise label management solution that could better suit your business in the long run.
3. Support
When deciding to transition into an in-house label printing solution, you should choose a barcode label printing software company that has your best interests at heart and prioritizes customer support. A provider with extensive resources and a customer support team who answers phone calls live and can assist you through the implementation process and help ensure that if any problem arises, you are covered and able to get up and running faster. At TEKLYNX, we offer monthly product training webinars on a variety of relevant topics and custom training to fit your needs. We also have a services starter pack for new label design software users offering assisted installations, customized training, and guided label creation.
Bringing your label printing in-house gives you the capability of integrating with your current ERP system. This means that apart from becoming familiar with your barcode label printing solution, it's eliminating additional steps of training, saving you time and inevitably money. When your labeling integrates with the system that's currently in place, your employees are comfortable using it and there will be a minimal training window.
Outsourcing to In-House Labeling Transition Case Study
The Real Good Life is a meal delivery service in Milwaukee, Wisconsin. Since 2016, they have been serving the Greater Milwaukee area with nutritious, delicious, and cost-effective meals delivered right to their customers doors. When business started growing more, they ran into some roadblocks with their current labeling process. Their manual, two-step label printing process was time consuming which produced costly labeling errors. The team at The Real Good Life was looking for an in-house label printing solution that could eliminate manual processes, accurately print their food and delivery labels, and easily integrate within their company with little to no training.
After collaborating with the team at TEKLYNX, The Real Good Life decided to go with LABELVIEW, a robust barcode label creation and integration software that checked all their boxes for an in-house label printing solution. With their newly implemented label printing software, The Real Good Life successfully eliminated their old labeling process of manually entering information on every product label, while simultaneously gaining efficiency with an easy-to-use barcode label design solution with little to no IT involvement. Now, The Real Good Life can focus on their goal of opening more locations and growing across North America.
Interested to learn more? Read the full Real Good Life case study.
Are you ready to start removing manual processes and eliminating errors throughout your system?
About Travis
Travis Wayne is the Product Manager at TEKLYNX. Travis applies his 20+ years of IT and health sciences experience to empower businesses to streamline operations and barcode better by applying software and technology. He works to continually improve TEKLYNX' strategic planning, product and project management principles, and cross-functional communications. When not working, he enjoys many outdoor activities with his wife and two children.
Subscribe to The Human Readable blog