How to Integrate Labeling Software Across Multiple Locations
BY: NICK RECHT / DATE: 06/25/2020 / TOPICS: ENTERPRISE LABEL MANAGEMENT, LABEL TRACEABILITY, PRINT AUTOMATION
Companies that need to print labels at multiple locations face unique challenges. All printed labels should follow the same format and contain the same accurate data. However, that's not always the reality if labeling software is not integrated and standardized across all locations.
Whether your company has grown and built additional locations of its own, or locations were added via mergers and acquisitions, chances are that each location has its own labeling software. A hodgepodge of labeling software means different labeling processes at every location. This can lead to costly labeling errors and wasted time.
How do you integrate and standardize labeling software across multiple locations?
Depending on the level of labeling complexity, here are a few options for integrating and standardizing your labeling software across all of your company's locations:
Standardize labeling software brand and version across multiple locations
For companies that have grown through mergers and acquisitions, it's very common to end up with different brands of labeling software (or different versions of the same brand) at every location.
Challenges of having different brands and versions at every location:

Label files are not compatible between different software packages, causing frustration and duplication of efforts
Labeling software features are not consistent, causing some users to lose functionality
Training takes double or triple the time it should, as users learn each different labeling software

Benefits of standardizing labeling software across all locations:

One label file format, enabling users to easily send and receive labels from anyone in your organization
Labeling software features are consistent, enabling all users to accomplish the same tasks
Train users once, and they can use any labeling software in the company
When choosing a labeling software brand, ask yourself: How many label printers will be used? Do you expect to add more label printers in the future? Avoid getting stuck paying more to use your labeling software on each additional printer by choosing TEKLYNX. TEKLYNX offers label printing software for unlimited printers!
Use a network license of labeling software at multiple locations
A network license allows you to manage labeling software users at multiple locations from one central IT office. This replaces the need to manage single-user labeling software locally on every computer. Instead of spending time managing local installations, you can focus your time on more important projects!
Network licenses enable greater flexibility by allowing the license administrator to easily activate and deactivate licenses as needed.
If your locations are all on the same network, you can use one network license for all locations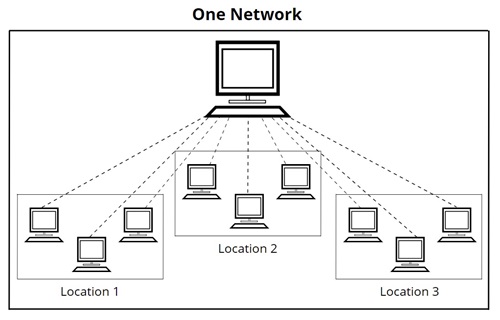 If your locations are not on the same network, you can still leverage separate network licenses to manage the software for multiple users at each location

Network licensing is also more cost effective. While nine single-user licenses might cost $3,771, a 10-user network license of the same software costs less than half of that at $1,748.* Request a price quote from TEKLYNX to see how much you could save!
* Pricing based on LABELVIEW Gold 2020 list price. Prices vary based on product, edition, license options, and geographic region. Contact TEKLYNX in your region for current pricing.
Implement a label approval tracking system across all locations
When labels are printed at multiple locations, it's possible for labeling errors to occur. Labeling errors are the leading cause of product recalls. Reduce your risk of a labeling-related recall by implementing and enforcing a paperless label approval process and tracking system.
The most common label approval process has three steps:
Design User: Creates or modifies the label and submits to approval workflow
Manager: Approves or denies new label or change request
Print User: Prints current approved version of label

A label approval tracking system, such as LABEL ARCHIVE, tracks all label creation, approval, editing, and printing at all locations. Errors are minimized, and if they do occur, it is easy to track the error back to the source so it can be prevented in the future.
Use a browser-based label printing system, eliminating workstation installations
For companies with many locations, stringent labeling requirements, and a lean IT staff, a browser-based label printing system can simplify labeling across all locations. Local installations are completely eliminated, and authorized users log into a webpage to print labels from anywhere.
TEKLYNX CENTRAL is a browser-based label printing system that makes labeling at multiple locations easy by integrating with your company's existing ERP, WMS, or other business system. Smart label templates are built to pull in data directly from these systems, standardizing the labels and eliminating errors from manual data entry!
Browser-based label printing also enables accurate supplier labeling. Suppliers can be given access to the secure browser-based label printing interface, allowing them to print the most up-to-date version of a required label.
For companies looking to maximize scalability and ease of deployment, TEKLYNX takes the hassle out of label management by offering a cloud hosted label printing interface. Get in touch with us to learn more!
Automate label printing to multiple locations
With automated label printing, printing labels at multiple locations doesn't have to involve manual interaction at all! Label printing automation software integrates with your ERP, WMS, or other business system to pull variable data into your smart label templates. Label print jobs at any location can be triggered by an action in the ERP system, such as clicking "Print," or by adding a record to a database.

Since data population and label printing are done systematically, the right labels are printed at the right time with the right data. Manual errors are a distant memory! Learn about SENTINEL label print automation software.
Choosing the best labeling software integration partner
When evaluating integrated labeling solutions for your multiple location business, be sure to learn about the software provider's integration method. Some software providers tout a highly customized and deep integration between your business system and your labeling software. While this may sound like a perfect fit, consider what it will be like to upgrade your business system or your labeling software. Any changes to either system could require a complete re-write of the integration code, costing you time and money. TEKLYNX takes a different approach, keeping integrations between systems light and simple. With a light labeling software integration, upgrades are a breeze because the systems aren't deeply entwined.
Integrating and standardizing labeling software across multiple locations helps businesses run more efficiently. No matter what your current situation or ideal labeling process is, TEKLYNX is here to help.
About Nick
Nick Recht is the Sales Manager for the Americas region at TEKLYNX RFID and barcode label solution provider. He leverages his passion for using technology to add value to businesses and his 14 years of AIDC experience to help organizations of all sizes barcode better. When he is not working, he is driving one of his daughters to a practice of some sort or doing a project around the house.
Subscribe to The Human Readable blog