TEKLYNX barcode label software and VIPColor industrial and commercial color label printers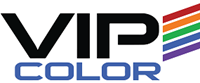 Bringing on-demand color labeling in-house is easier, faster, and more affordable than ever with TEKLYNX barcode label design software and VIPColor label printers.
The combination of TEKLYNX and VIPColor Technologies empowers manufacturers to integrate existing artwork and design files into barcode labels with variable data, print high-quality 1600 x 1600 dpi color labels, address regulatory compliance, and capture the attention of customers with precise color labels due to built-in CMYK and RGB color matching in TEKLYNX design software to ensure stunning and vibrant color labels thanks to VIPColor's proprietary color formulation.
Easily design color labels with TEKLYNX and take full advantage of blazing fast print speeds and extraordinary print quality with the TEKLYNX printer drivers combined with VIPColor's VP Series label printers for on-demand color labels you can be proud of.
VIEW SUPPORTED VIPCOLOR PRINTERS LIST