How RFID is Used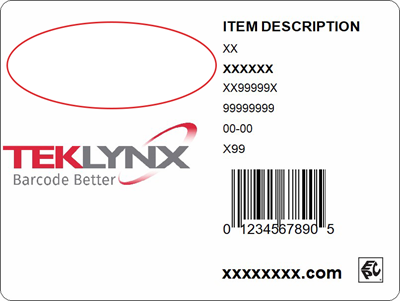 RFID tags can be used for a variety of real-world applications such as:
Short-range presence-based Real-Time Location System (RTLS) of physical objects
Item level inventory tracking
Logistics and supply chain management
IT or internal asset tracking
Access control for security
Attendee tracking for tradeshows
Materials management and tool tracking for industries such as construction
Serialization and aggregation in pharmaceutical shipment tracking to meet DSCSA labeling requirements
Touchless interactions (food and retail) reduce the need for human interaction
Tracing vaccine doses and guarding against expired or counterfeit vaccines
Above is a finished RFID label designed in CODESOFT Enterprise RFID software. The red circle illustrates that the RFID tag can be invisible when printed on a smart label.
Benefits of RFID
There are endless benefits to using RFID tags, including:
More precise, real-time control of inventory in supply chain
Elimination of error-prone manual processes
Increased item security: tagging items allows them to be tracked inside a confined facility or space
Real-time information flow: as soon as an item changes state (removed from shelf, sold, etc.), the information can be updated across the supply chain
Higher throughput supply chains: RFID allows many items to be counted simultaneously
Meet supplier compliance requirements for RFID labels, including Walmart, Macy's, Nordstrom, Belk, Dillard's and more!
RFID Tag Type Support
CODESOFT Enterprise RFID, SENTINEL, and TEKLYNX CENTRAL support many tag types available in RFID-capable printers from a variety of manufacturers. Including:
UHF tags
Passive RFID labels
GS1 Electronic Product Code (EPC)
and more!
Click here to access the TEKLYNX Driver Service Pack (DSP), which includes a full list of TEKLYNX' 3000+ native printer drivers.
RFID Data Format Support
TEKLYNX supports most formats for data encoding on RFID tags, including the GRAI, DoD, SGLN, GDTI, GIAI, SGTIN GID, GSRN, and SGLN and SSCC formats, as well as custom RFID data formats.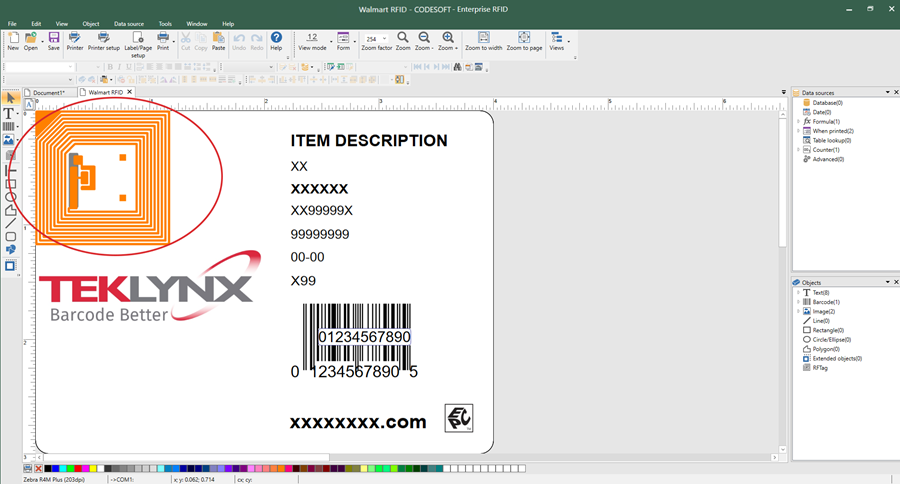 Passive RFID label designed in CODESOFT Enterprise RFID label software with the tag highlighted by the red circle.
Want to learn more about RFID labeling with TEKLYNX? Download a free 30-day trial or read our blog post, RFID Labeling Basics: What It Is, How It Works & How to Create.