RFID Labeling Capabilities
On-Demand Smart Label RFID Printing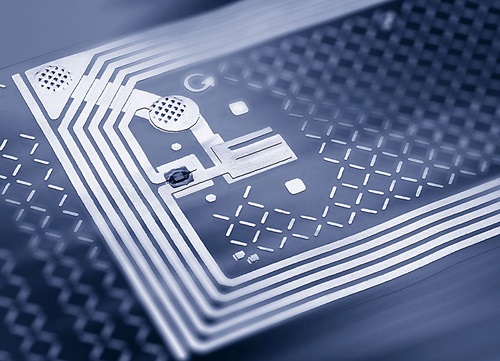 Many companies require on-demand Radio Frequency Identification (RFID) labeling.
TEKLYNX RFID label software allows you to design labels with RFID objects just as you would with text, images, and other barcodes. Easy-to-use and flexible, TEKLYNX' RFID capabilities also allow you to easily implement both barcode scanning tools and RFID technology to capture data.
TEKLYNX provides full RFID label software support in CODESOFT Enterprise RFID, SENTINEL, and TEKLYNX CENTRAL.
Finished RFID label designed in CODESOFT Enterprise RFID label software. Red circle illustrates that the RFID tag can be invisible when printed on a smart label. Download a free trial today!
RFID Tag Type Support
CODESOFT Enterprise, SENTINEL, and TEKLYNX CENTRAL support many tag types available in RFID-capable printers from a variety of manufacturers, including GS1 Electronic Product Code (EPC) Gen2 standard + ISO 18000-6C (Previously EPC Class 1) I-CODE, Tag-It, My-d, TagSys, and Picotag. Click here for access to the TEKLYNX Driver Service Pack (DSP), which includes a full list of TEKLYNX' 3000+ native printer drivers.
RFID Data Formats
TEKLYNX supports most formats for data encoding on RFID tags, including the GRAI, DoD, SGLN, GDTI, GIAI, SGTIN GID, GSRN, and SGLN and SSCC formats, as well as custom RFID data formats.
How it is Used
RFID tags can be used for a variety of real world applications such as:
Real Time Location System (RTLS) of assets, employees, or customers
Item level inventory tracking
Logistics and supply chain visibility
IT or internal asset tracking
Access control for security
Attendee tracking for tradeshows
Materials management and tool tracking for industries such as construction
Benefits
There are endless benefits to using RFID tags, including:
More precise, real-time control of inventory in supply chain
Elimination of error-prone manual processes
Increased item security: tagging items allows them to be tracked inside a confined facility or space
Real-time information flow: as soon as an item changes state (removed from shelf, sold, etc.), the information can be updated across the supply chain
Higher throughput supply chains: RFID allows many items to be counted simultaneously
RFID Tag Display
RFID label designed in CODESOFT Enterprise RFID label software
TEKLYNX allows you to see the outline of the RFID tag on the screen as you are designing your label. For reference, this is highlighted by the red circle in the above image. This helps prevent obstructing the tag with other label objects.
TEKLYNX' preset label templates include a graphic that shows the outline image, and also allows you to use custom graphics.
The Future of RFID
Contrary to popular belief, RFID is not a new technology. It is constantly, and quickly, evolving with new applications and capabilities.  As minor changes in RFID standards and tags arise, you can download the latest TEKLYNX printer driver service packs via the TEKLYNX DSP on our website.
TEKLYNX will continue to keep track of any changes or updates in standards and practices in RFID and will update the software to meet changing needs.
Want to learn more about RFID labeling with TEKLYNX?
Download a free demo of CODESOFT Enterprise RFID label software and see for yourself!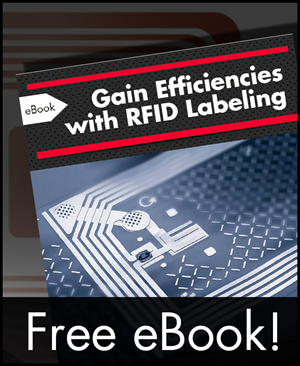 Download our free RFID Labeling eBook
TEKLYNX created this free eBook to help you learn how leveraging RFID technology in labeling can help you gain efficiencies in your business. Download this free eBook to learn:
What is RFID?
Two types of RFID
Why RFID?
Two industry use cases
Traditional barcoding and RFID
How TEKLYNX can help
Download our free educational webinar, Incorporating RFID into Your Labeling Process, to learn more.
View this short video on creating an RFID label in CODESOFT Enterprise RFID Software:
How to Create a RFID Label in CODESOFT