RFID Labeling Basics: What It Is, How It Works & How to Create
BY: TRAVIS WAYNE / DATE: 01/20/2023 / TOPICS: CANNABIS, HEALTHCARE, RETAIL, MANUFACTURING, BARCODE BASICS, ENTERPRISE LABEL MANAGEMENT, LABEL DESIGN, RFID
What is RFID?
Radio Frequency Identification, also known as RFID, is a form of technology that uses electromagnetic fields and signals to automatically identify and track specific items based on their tag or label. Active RFID tags consist of a chip, antenna, and housing and are powered by a battery. Passive RFID tags consist of the chip, antenna, and housing and don't require a battery because they receive their power from the electromagnetism generated by a reading device. The connection between the tag and the reader is used to encode the tag with item-unique data, allowing for that item to be easily tracked and identified in the supply chain. This item-level visibility allows organizations to increase their operational efficiency.
Learn more about RFID label software
RFID is a rapidly growing technology that is becoming more common in business operations. According to a 2021 report by Allied Market Research, "the global RFID market size was valued at $10.41 billion in 2020 and is expected to hit $25.47 billion by 2030." Businesses can use RFID to automatically capture information on packages or tags in order to track specific items. Encoding RFID tags helps companies access real-time data, reduce costs, and eliminate manual processes such as locating and scanning barcodes.
This blog will break down the benefits of RFID, how TEKLYNX software supports RFID technology, where RFID is used, and how to make an RFID label.
Benefits of using RFID technology
RFID technology has many business benefits including:
Increased item security: tagging items allows them to be tracked inside a confined facility
Automatic data capture with minimal human interaction
RFID systems can read hundreds of RFID tags in seconds, and RFID readers have longer read ranges with no line of sight required
Unique Item Identification for traceability
Sealable labels that withstand tough conditions such as dirt, grease, heat, chemicals, and sunlight
Precise track-and-trace to provide real-time data about inventory and product locations in the supply chain. As soon as an item changes state, i.e., removed from the shelf or was sold, the information can be updated across the supply chain
Meet supplier compliance requirements with mandates from retailers like Walmart, Macy's, Nordstrom, Belk, Dillard's, and more!
RFID by TEKLYNX
TEKLYNX software supports both RAIN RFID, often referred to as UHF Passive (Ultra High Frequency), GS1 EPC (Electronic Product Code), or ISO 18000-63 and HF/NFC High Frequency Near Field Communication. TEKLYNX label design software allows you to create UHF passive labels with RFID objects using text, images, and other barcodes.
Passive tags have no internal power source, so they can essentially last forever unless damaged. They are powered by electromagnetic energy transmitted from an RFID reader. The cost of RFID may cause some uncertainty for businesses. Chris Brown an RFID expert from TSC Printronix estimates that passive tags generally cost between 7 and 20 cents but can be as low as 5 cents when sourced in larger volumes. Since passive RFID has a lower price point, these tags become more economical for many industries.
TEKLYNX also supports on-demand smart RFID labels. Smart RFID labels combine RFID encodings with printed barcodes and text, all of which can be variable from label to label. The label can be printed as a barcode or as an RFID tag. Most companies utilize both barcodes and RFID to run a hybrid process. A hybrid process combines the features of passive RFID labels, or smart RFID labels, on top of standard barcode labels, creating one complete view of all your labels and traceability.
Where is passive RFID commonly used?
Passive RFID can be used for applications such as:
Item-level inventory management tracking for industries like retail, cannabis, and healthcare
IT or internal asset tracking
Access control for security
Airline baggage tagging
Work in process (WIP) applications
Road tolling and vehicle identification
Materials management and tool tracking for industries such as agriculture and construction
Item-level identification of perishable goods to help support FSMA compliance
Touchless interactions (in food and retail) reduce the need for human interaction
Serialization in pharmaceutical shipment tracking to help support DSCSA labeling requirements
Tracing vaccine doses and guarding against expired or counterfeit vaccines
Tracking automotive parts between the manufacturing facility to the final vehicle assembly
I have barcode labeling software, what hardware will I need?
Barcode label design software is an important part of the puzzle in order to encode RFID on barcode labels, tags, or packages. But there is specific equipment you need to be able to print RFID labels and to use RFID technology in general. Hardware such as readers, scanners, and printers, as well as labeling supplies such as RFID label stock, are necessities to use RFID technology. Choose a technology partner who works with industry leaders in labeling hardware.
How to create an RFID label in CODESOFT RFID software
CODESOFT makes it easy to design and create RFID labels. When you are designing RFID labels, be sure to consider the standards applicable for your labels. If you use RAIN RFID, you will need to select a "numbering system" from either GS1 EPC or an ISO/IEC standard. If you are using HF-NFC, you will need to choose between ISO/IEC 15693 & ISO/IEC 14443.
For another quick and easy step-by-step explanation, watch this short video: How to Create an RFID label in CODESOFT. If you have any additional questions on barcode labeling, contact our customer support team that works around the clock to help you barcode better.
As mentioned above, before you decide to create an RFID label, make sure your hardware and printer support RFID and the type of tag you need to use. TEKLYNX has over 4,000 printer drivers available. We partner with many RFID printer manufacturers including TSC Printronix, Brother, Bixolon, Zebra, and many more.
Now you can go ahead and open CODESOFT Enterprise RFID software. Once you have the correct hardware selected in the software, you will notice the RFID button in the left toolbar will no longer be grayed out. Learn how to add printers to CODESOFT.
Select the type of tag you would like to encode with RFID.
Define the main properties of the tag, such as the size of the tag, the class, and the data you would like to be on the tag.

If the data on your labels change regularly, use variable fields connected to a data source to avoid manual updates.

Select the numbering system, also known as structured data or encoding schemes - GS1 or ISO for RAIN RFID - for encoding your data in the tag. Make sure to use a standardized numbering system in order to avoid tag clutter.

Structured data: Conforms to existing standards like STGIN-96.

If you are using structured data, you must select the identifier for the scheme you want to use (STGIN, SGLN, etc.). Then you will define the values for the properties managed in the standard selected such as company prefix, item reference, and serial number.

You can also generate your own proprietary encodings, but if you do, be sure you put them in a standardized number system wrapper. There are raw formatting options such as ASCII, or Hexadecimal data:

ASCII data: an ASCII table is a collection of alphanumeric information that is organized into records and fields. It is the most common character encoding format for text data in computers.

Hexadecimal data: a numbering system with a base of 16. It is used to represent large numbers with fewer digits. Hexadecimal data uses 16 symbols: numbers from zero to nine followed by six alphabetic characters (A, B, C, D, E, and F)





Once you select the format for all the data points, your label will be encoded.
Go through the regular printing processes. Your RFID tag will be encoded all in the same click. You won't see the RFID in the print preview, but as long as your printer supports RFID, it will be on the printed tag. The red circle in the print preview window below is where RFID will be encoded.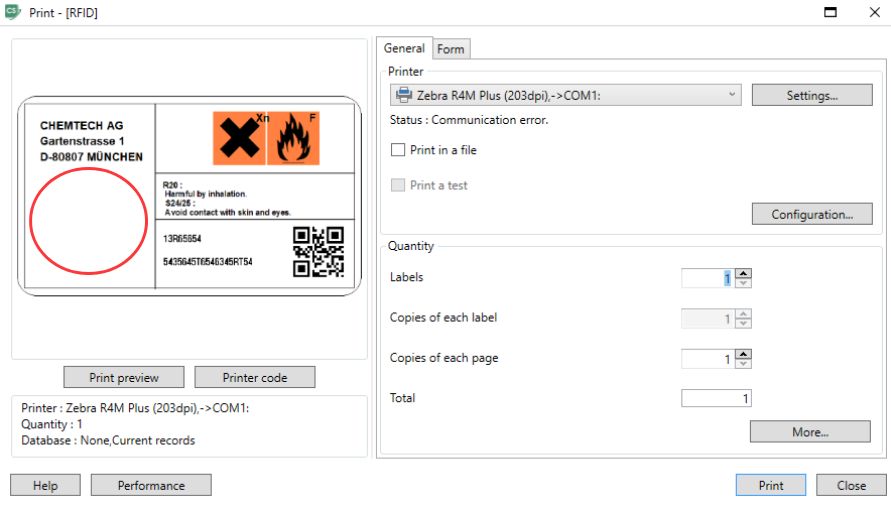 RFID tags TEKLYNX supports:
CODESOFT Enterprise RFID is an advanced barcode label design software from TEKLYNX. It can be used for all labeling needs, from simple text labels to barcode labels to RFID labels, as well as any combination. TEKLYNX enterprise label management solutions SENTINEL, LABEL ARCHIVE, and TEKLYNX CENTRAL, all leverage CODESOFT for label design, meaning the enterprise label management solutions all support RFID labels as well. Below are many of the supported tag types that are available in RFID-capable printers.
Passive RFID labels

UHF tags:

RAIN RFID
GS1 EPC
ISO/IEC 18000-63
Passive UHF

HF-NFC tags:

Tag It
My-d
ISO/IEC 14443
Felica
I-Code
I-Code SLI
ISO 15693
TEKLYNX also supports most formats, also known as identifiers for data encoding (numbering systems) on RFID tags, including:
GRAI
DoD
SGLN
GDTI
GIAI
SGTIN GID
GSRN
ADI-var
CPI-var
SGCN and SSCC formats
Custom RFID data formats
Why is RFID important?
RFID is becoming more common in retail, manufacturing, healthcare, and the cannabis industry. As RFID technology grows, more businesses are starting to incorporate RFID into their barcode labeling processes to increase security, meet regulatory compliance, and eliminate manual processes. Watch our free on-demand webinar: Incorporating RFID Into Your Labeling Process to learn more about RFID and how to integrate it into your business operations.

Improve supply chain visibility and your barcode labeling processes with RFID and TEKLYNX, and download a free 30-day trial of CODESOFT RFID label software to see how it can meet your business needs. If you don't know where to begin, get in touch with a TEKLYNX labeling expert who can help guide you in the right direction.
Chris Brown an RFID expert from TSC Printronix contributed to this blog.
About Travis
Travis Wayne is the Product Manager at TEKLYNX. Travis applies his 20+ years of IT and health sciences experience to empower businesses to streamline operations and barcode better by applying software and technology. He works to continually improve TEKLYNX' strategic planning, product and project management principles, and cross-functional communications. When not working, he enjoys many outdoor activities with his wife and two children.
Subscribe to The Human Readable blog