Supporting Omnichannel Supply Chain Strategies with Label Management
BY: NICK RECHT / DATE: 11/11/2021 / TOPICS: CANNABIS, FOOD & BEVERAGE, SHIPPING & RECEIVING, WAREHOUSING & DISTRIBUTION, RETAIL, MANUFACTURING, ENTERPRISE LABEL MANAGEMENT, CLOUD LABELING
To keep shoppers safe during the pandemic and provide a seamless customer experience no matter how they're shopping – online from a mobile device or in a brick-and-mortar store – many retailers started to implement an omnichannel approach to distribution.
Omnichannel distribution is a system that enables customers to complete a purchase and receive orders from any channel they choose (buy online and pickup in-store, buy online and ship to home, etc.) in addition to reverse logistics for when a customer returns a product.
learn about centralizing your labeling
Today's eCommerce and click-and-collect services are expected to continue to grow, especially as we're now in peak holiday shopping months. According to a GlobalData report, when asked which behaviors consumers expect to do more of post-pandemic, 68% of U.S. shoppers said curbside pickup and almost 60% said in-store pickup.
But labeling for omnichannel supply chains are only successful when one-touch integration between operations and physical product flows across all channels to provide a seamless shopping experience. This blog will discuss labeling strategies for omnichannel to consider that support streamlining logistics, including centrally managing your entire labeling process.
Inventory visibility is the biggest challenge when using omnichannel distribution
Simultaneously providing customers and your business with information on the availability of a product as purchases and returns are happening across multiple channels is crucial for a fluid omnichannel supply chain. Retailers need to know exactly how many quantities are in the warehouse or store floor to meet the demand and delivery speed expected by customers.
Implementing a Warehouse Management System (WMS) with radio frequency and barcode scanning functionality is a simple but critical first step. The most advanced companies have gone above and beyond to automate inventory counts, such as using drones and Radio Frequency Identification (RFID) tags.
RFID tags are simply a very small chip with a very small antenna capable of communicating data to a reader and can be embedded in a label, product, or package.
There are endless benefits to using RFID tags, including:
Real-time control of inventory and information flow: As soon as an item changes state (removed from the shelf, sold, etc.) the information can be updated across the supply chain.

Increased item security and anti-counterfeiting: Tagging items allows them to be tracked inside a confined facility or space and recreating the RFID label becomes nearly impossible.

Higher throughput supply chains: RFID allows many items to be counted simultaneously and eliminates error-prone manual processes.
CODESOFT, SENTINEL, and TEKLYNX CENTRAL support many tag types available in RFID-capable printers from a variety of manufacturers, including GS1 Electronic Product Code (EPC) Gen2 standard + ISO 18000-6C (Previously EPC Class 1) I-CODE, Tag-It, My-d, TagSys, and Picotag.
Check out our eBook, Gain Efficiencies with RFID Labeling, to learn more about how leveraging RFID technology in labeling can help you gain efficiency within the omnichannel supply chain.
How to increase delivery speed with unified supplier labeling
With the adoption of omnichannel distribution comes increased consumer demand for speedy delivery times. No matter what channel purchases are made through, most customers want to receive same-day pickup or delivery the day after placing the order, or two days later at most. Meeting consumer demands depends on vast supply chains made up of contract manufacturers, suppliers, warehousing providers, and distribution specialists working well together.
Supplier labeling is a critical component of an efficient supply chain, but time and resources can be wasted if inventory needs to be relabeled. Inaccurate supplier labeling causes significant inefficiencies in the inventory receiving process, meaning more time, space, and labor are required to manage incoming inventory.
By implementing a unified supplier labeling system, companies experience much lower risk for labeling errors from their suppliers, optimizing internal processes to get products out the door faster.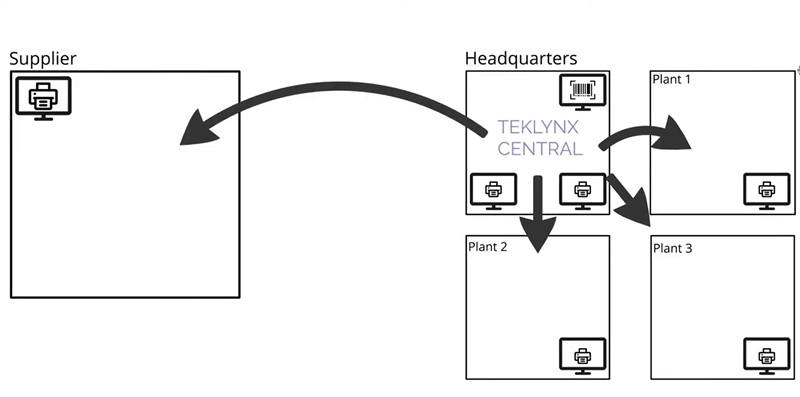 Looking ahead for innovative and agile solutions
In addition to understanding consumer demands and expectations today, companies must look to the future and have the agility to stay flexible as the market rapidly changes.
Now is the time to consider migrating to labeling solutions that are scalable and adaptable enough to company growth and changing consumer behavior. For example, cloud-enabled label printing enables companies to rapidly implement on-demand label printing at new locations anywhere in the world without the hassle of hosting local servers.
Cloud-enabled label printing use case:
One high-end athleisure wear company was looking for a label printing software solution that could work on a variety of different networks throughout their hundreds of storefronts. The TEKLYNX Enterprise Team worked alongside their IT team to implement a cloud-based solution, creating a working solution before the busy holiday season, avoiding potential downtime before the busiest time in the retail industry.
Cloud-enabled label printing helped them:
Print labels on-demand anywhere using secure user logins managed centrally

Maximize simplicity with integrated label templates for print users

Establish control of label printing at multiple locations

Relieve stress by implementing a simple and worry-free solution
Labeling for omnichannel supply chains is only successful with the right technology solutions – businesses need connectivity and system integration to thrive. Centrally managing your entire labeling process with TEKLYNX CENTRAL and cloud-enabled label printing simplifies the labeling process to support streamlining logistics and your omnichannel strategy.
Get in touch with us today to evaluate your current labeling environment and learn about tools you can implement to reduce errors and automate your labeling process.
About Nick
Nick Recht is the Sales Manager for the Americas region at TEKLYNX RFID and barcode label solution provider. He leverages his passion for using technology to add value to businesses and his 14 years of AIDC experience to help organizations of all sizes barcode better. When he is not working, he is driving one of his daughters to a practice of some sort or doing a project around the house.
Subscribe to The Human Readable blog