Take the Next Step and Automate Cannabis Labeling with TEKLYNX & Zebra
BY: COLIN GOODWIN, NA ISV BUSINESS DEVELOPMENT (RETAIL & HOSPITALITY) AT ZEBRA TECHNOLOGIES / DATE: 10/15/2021 / TOPICS: CANNABIS, PRINT AUTOMATION
As growers, distributors, and dispensaries know extremely well, cannabis is quickly becoming a big-money industry with huge opportunities to scale up and grow your business. In fact, according to a July 2021 report by Quince Market Insights, a worldwide market research and consulting company, the global legal cannabis market is estimated to reach over $50 billion in value in 2021, with a projected growth rate of 26.5%.
But capitalizing on all that growth and opportunity can be a big challenge, especially since cannabis processing is so labor intensive and the prospering industry is still figuring out how to scale up and operate more efficiently. Like other fast-growing markets, the cannabis industry must quickly learn how to operate with the same speed, efficiency, and accuracy as the biggest and most successful players in other industries. Furthermore, it must be done while ensuring compliance with a growing number of regulatory requirements at the state, national, and international levels.
Fortunately, there are many automation technologies that help streamline cultivation, lab testing, processing, production, distribution, and retail sales. By using the right technologies and strategies, growers, distributors, and dispensaries can automate labor-intensive processes such as plant and product labeling, tracking, and compliance management. They can then use the resulting efficiency gains to help them scale up faster, grow more cannabis, and sell more products.
It's something we've seen firsthand at Zebra Technologies, where we've been working with partners such as TEKLYNX to help cannabis businesses rapidly automate their operations.
Automating Cannabis Label Printing for Better Efficiency and Compliance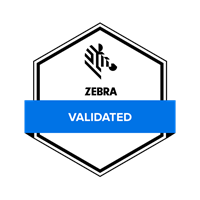 To help cannabis companies boost efficiency, the first place we typically start is the cannabis labeling process. That's where we integrate Zebra barcode label printing solutions with CODESOFT labeling software and third-party seed-to-sale ERP systems to automate labeling and tracking processes.
With TEKLYNX barcode label design solutions, end users can print compliant medical and recreational cannabis labels directly from their cloud-based or on-premise cannabis seed-to-sale tracking software. TEKLYNX' advanced RFID and barcode labeling solution integrates with Metrc, BioTrack, Leaf Data, and other seed-to-sale systems to pull cannabis product information and automatically print it on labels with Zebra barcode label printers.
Growers can label plants and products according to strain, type (Indica, Sativa, Hybrid), weight, and THC or CBD status. They can also automatically add dynamic and variable content to their labels to ensure compliance with different state-by-state regulations.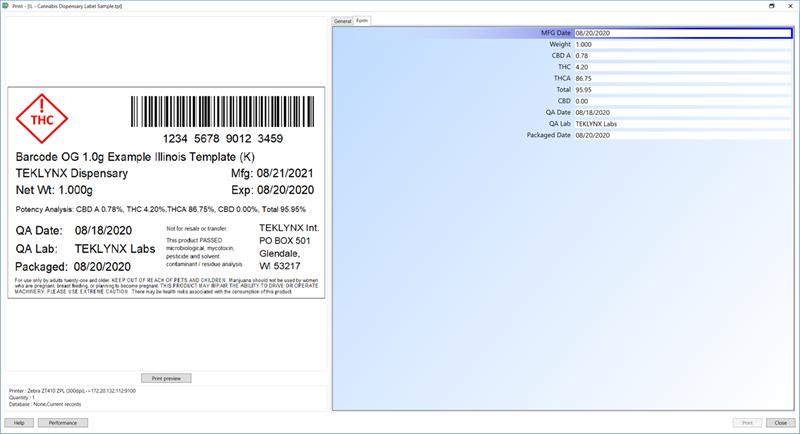 Additionally, CODESOFT comes with a PortWatch feature that allows end users to connect CODESOFT to a scale or a barcode scanner to automatically collect product data and print it on labels in real time. This integrated and automated approach radically reduces the amount of time it takes to create and print cannabis labels while helping eliminate the human error that can plague manual labeling processes.
Other solutions take up to two minutes per label and require the user to open a software app, browse for the correct label, populate the data, choose a printer, and then select a print quantity and execute the job. TEKLYNX print automation solution, SENTINEL, automates the entire process and integrates with your existing seed-to-sale system to send print jobs for any quantity of labels and to virtually any number of printers in a fraction of a second. Zebra's industrial desktop label printers then print your labels at blazingly fast speeds of up to 14 inches (356 mm) per second, depending on your preferred print resolution and the printer model you're using.
Label Print Automation for Every Stage of Seed-to-Sale Operations
Ultimately, with label design and print automation software, you can automate labeling for any stage of cannabis seed-to-sale operations. Here's a quick breakdown of how our customers typically use it in each area:

Cultivation
Print RFID labels for growing and cultivation with seed-to-sale software integration.
Print accurate and compliant labels for trimming, drying and curing.
Testing Lab
Print test tube and lab labels for cultivated plant testing and analysis.
Track and add pass/fail, dates, lab ID, cannabinoid profiles, potency, and more.
Processing and Manufacturing
Print black-and-white labels with dynamic barcodes and variable data.
Integrate label printing with Metrc, BioTrack, and other systems and databases.

Distribution
Print labels for packaging, shipping, cases and pallets, and inventory.
Create and print documents for pack lists, cases, purchase orders, and more.

Dispensary and Retail
Accurately display product information, lab results, and company branding on your labels.
Meet the latest regulatory requirements with compliant barcoding and labeling.
Versions, Features, and Capabilities for Every Labeling Need
TEKLYNX delivers all of this in a simple yet powerful label design and management solutions to match your needs. Core and expanded capabilities include:
Easy label design with wizards and templates
Print automation that virtually eliminates manual steps
Support for 100+ barcode symbologies
Database connections and third-party software integration
Automated printing to up to hundreds of printers
Traceability for label design, approval, and printing
Complete document history and activity logs
Label security, user access levels, and file version control
A browser-based printing interface
Global scalability for future growth

Importantly, TEKLYNX cannabis labeling software comes with native embedded printer drivers to optimize print quality and speed with Zebra printers. So, you don't just get outstanding performance from your labeling software but also from your printers and printing processes.
Learn More About TEKLYNX Cannabis Labeling with Zebra Printers
At Zebra, we've been thrilled to partner with TEKLYNX because of how effective its CODESOFT label printing solution has been for so many Zebra customers and cannabis businesses around the world. If our customers in the cannabis industry aren't already using CODESOFT, we regularly recommend it and connect them with the TEKLYNX team to learn more and get started.
You can do the same by reaching out to TEKLYNX right now, and if you need more information and recommendations for Zebra label printing, barcode scanning, RFID, and mobile computing solutions, our team will be able to help as well.
About Colin
Colin Goodwin is the North America ISV Business Development Manager responsible for Retail and Hospitality at Zebra Technologies. Colin brings a multitude of experience in sales strategy and retail technologies, helping bridge the gap between Zebra's software partners and end-user customers. Colin has also been tasked with the development and thought leadership of special use-cases surrounding digitized food safety and the cannabis industry. In conjunction with Zebra Partners, Colin has helped design, build, and deliver industry-leading hardware and software solutions to some of the largest cannabis companies in the US and Canada. Colin currently resides in the Northwest Suburbs of Chicago with his wife where he enjoys a day out on the boat or a rainy day in the wood shop.
Subscribe to The Human Readable blog