6 Ways to Design Your Barcode Labels Better
BY: ANTHONY BIENIEWSKI / DATE: 10/24/2019 / TOPICS: LABEL DESIGN
Everyone wants to do better. Whether it's improving your health, career, or home, there's always room to do things better. Well, what if I told you there's a better way to design your barcode labels? I'll do you one better, below are six different ways to design barcode labels better.
Want to speak with a barcode labeling expert instead?
1. Set up your printer in an optimal fashion and leverage printer resident features
TEKLYNX has developed over 3,000 native label printer drivers to provide the best overall quality for your barcode labels. Simply go to File > Select Printer > Add and then search what printer you need to use and the port on your station. With the selection of your printer, you can now leverage the printer resident features of that printer such as fonts and barcodes.
Printer resident fonts are fonts that are installed on the printer itself, instead of your computer. When you print using printer resident fonts, letters, and numbers can be sent in small amounts of data - speeding up your label printing process.
2. Leverage barcode wizards and sample barcode labels
Helpful barcode creation wizards in TEKLYNX barcode label design software can help you create a new label document, insert text, and even comply with regulations. One of the most valuable wizards in our barcode label design software is our GS1 wizard. GS1 barcodes are easily and correctly generated when using the TEKLYNX GS1 wizard. You have the option to choose the barcode symbology you need and can easily search and add the Application Identifiers (AIs) required for your barcode labels such as:
GTIN
Lot number
Production date
Best by date
Packaging date


In versions 2019 and newer of LABELVIEW and CODESOFT, the GS1 barcode wizard was enhanced for ease of use and the ability to edit already created GS1 barcodes. Not on the latest version? Download a free trial and watch our 45-minute webinar recording on creating GS1 barcodes in CODESOFT and LABELVIEW.
3. Create smart barcode label templates with variable data
Companies tend to print more than one barcode label at a time. Normally, they'll make a label for each of their products which is time-consuming and error prone. There's an easier way! You can create one barcode label template that will drive variable data onto that template from an external - local or cloud-hosted - data source using TEKLYNX barcode labeling software. Connecting to that data source is very easy – there's even a database connection wizard to help you get started!
Webinar: Creating Database Connections with TEKLYNX Software
Database connections enable label designs to pull variable data in from an existing business database. Instead of maintaining hundreds of separate label files, create a handful of label templates that use database connections to print variable data. We'll show you how!
This instructor-led training webinar will cover creating database connections in TEKLYNX label design software.
4. Integrate forms with barcode labels
LABELVIEW and CODESOFT allow you to customize your barcode label printing forms to create your ideal printing process with our new Form Editor and the updated Form Designer. Form Editor allows you to enforce data entry rules for your print users so that data is formatted correctly 100% of the time. Use Form Editor to add drop-down menus, incrementing value fields, sliders, date pickers, radio buttons, and more. Form Designer is a tool that is accessible without having to launch your barcode label software, which helps enforce user roles within your team. This eliminates steps for your print users while simultaneously lessening the stress for those who take time to create the label printing forms. Learn more in this short video:
5. Use color on your barcode labels
The human eye can't read a barcode, but it can recognize color very quickly. Incorporating color onto your barcode labels offers the ability to create a visually appealing design that is also highly functional, providing operational benefits while also conveying information such as:
Branding
Marketing and promotions
Product identification


A growing trend in the labeling world is adding colors to your barcode labels. High-resolution images created in your graphic design software can be leveraged on your barcode labels to maximize the look and feel. You also have the option to use our color picker and leverage exact RGB or CMYK color codes to print accurately to any color printer.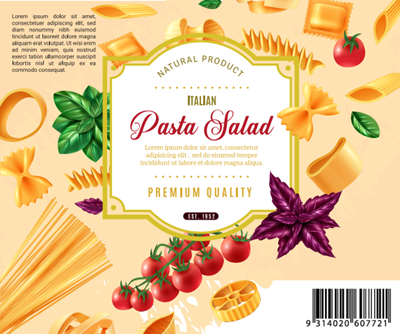 6. Stay on the current software version
Technology changes every day, and the pace of change is not slowing down. To ensure your TEKLYNX barcode label software runs smoothly, we are continually improving our software solutions through new version releases to meet your business needs. We highly recommend our customers stay on the most current version to avoid the risk of production downtime and to stay up to date with barcode labeling trends - with a subscription license or an active Software Maintenance Agreement (SMA), you are able to upgrade to the most current version for free.
Are you ready to design your barcode labels better?
Get in touch with a barcode labeling expert today!
About Anthony
Anthony Bieniewski is the Operations and IT Manager at TEKLYNX. Anthony uses his 15+ years of experience in IT infrastructure and security to continue to move TEKLYNX forward with efficient and secure processes and tools. He also leverages that experience in mentoring and coaching TEKLYNX's support team so that they can continue to pursue best practices when helping our customers barcode better.
Subscribe to The Human Readable blog