Date: 12/17/2018 / Category: Press releases, Awards
Leading Barcode Labeling Solutions Provider TEKLYNX makes leading business-to-business publication's annual list of global food and beverage supply chain software providers for fourth consecutive year
December 17, 2018 – TEKLYNX International, the world's leading barcode and RFID labeling software developer and solutions provider, today announced that it has earned a place on Food Logistics' coveted 2018 FL100+ Top Software and Technology Providers list for the fourth consecutive year. Featured in the November/December 2018 issue of Food Logistics magazine, the list features software and technology providers whose products and services are critical for companies throughout the global food and beverage supply chain.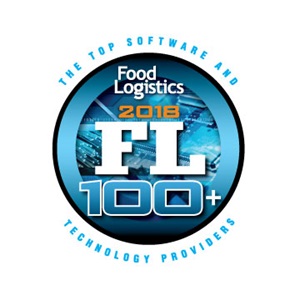 "We're proud to be selected for Food Logistics' prestigious FL100+ list for the fourth year in a row because it showcases TEKLYNX' continued commitment to providing the food and beverage industry with efficient, smart and scalable barcode labeling and RFID software solutions and unparalleled customer support," states TEKLYNX General Manager Doug Niemeyer.
For decades, TEKLYNX has helped food and beverage companies streamline labeling operations while staying ahead of current industry specific regulations such as the Produce Traceability Initiative (PTI), Food Safety Modernization Act (FSMA), Food Information for Consumers (FIC), and California's Proposition 65. TEKLYNX' labeling software can also automatically highlight allergens when they appear in the ingredients list as well as emphasize nutrition facts and other key label components with TEKLYNX' WYSIWYG ("What You See Is What You Get") dynamic styling feature. To learn more, view the TEKLYNX Navigating Food Labeling Requirements eBook.
Today, TEKLYNX is the only barcode labeling solution provider to offer subscription licensing – allowing food and beverage companies to start using TEKLYNX for a low cost of entry – while offering tiered solutions that meet the labeling needs of food and beverage companies of all sizes and is designed to grow with them over time.
To view Food Logistics' 15th annual FL100+ list visit foodlogistics.com and to learn more about TEKLYNX barcode labeling software solutions visit teklynx.com.
About TEKLYNX International
TEKLYNX International is the world's leading barcode and RFID labeling software developer and solutions provider. An industry innovator for over 30 years, TEKLYNX helps companies operate smoothly and efficiently by implementing labeling solutions that streamline operations while staying ahead of industry-specific compliance and emerging regulations. TEKLYNX is world-renowned for its customer service; offering flexible purchase options, unparalleled service and support, and a comprehensive product offering that grows with companies over time. With operations in the United States, Europe, Japan, Latin America, China and Singapore, more than 750,000 companies in over 120 countries look to TEKLYNX integrated software solutions for their standard of success. Learn more by visiting teklynx.com, LinkedIn, Twitter @Teklynx, and Facebook.com/TEKLYNXInternational or call 888-629-4444.