How to Automate Label Printing
BY: NICK RECHT / DATE: 02/25/2021 / TOPICS: ENTERPRISE LABEL MANAGEMENT, PRINT AUTOMATION
As our world moves towards a digital transformation, automation is a crucial tool for a thriving business. By automating processes, companies are able to make their workflows faster and more efficient, enabling them to do more with less.
Your barcode labeling environment is no exception. With automated label printing, you can create a labeling process that is faster, more efficient, and has less room for errors.
What is automated barcode label printing?
Label print automation is leveraged by businesses to eliminate the manual process of triggering a print job within a labeling environment. Print automation replaces the manual task of creating and printing a label with an automatic process that is faster and more efficient.
The main goal of print automation is to minimize touch points within the labeling process. Humans are prone to error, so minimizing human interaction will lead to fewer mistakes and a smoother workflow. By automating data input within your label design software through features such as database connections, forms, or PortWatch, you can have peace of mind that your labels are populated with the correct data.
A complete label print automation solution integrates your label design software and printing technologies with your existing ERP, WMS, or custom front end system. Within a fraction of a second, your print automation software can trigger a print job using the data from your ERP, automatically populate your labels, and print to an unlimited number of printers.
The Benefits of Automated Label Printing:
Eliminate manual processes – Save time and prevent errors by reducing manual processes.


Reduce IT interaction – Once print automation software is configured with your system, little to no maintenance is required.


Faster label printing – Through the elimination of manual data entry and business system integration, your label printing process speed could double. Read how Flex-Strut increased their print speed by 100%.


Automatically convert data to labels – Print automation software automatically populates the labels for you by pulling the data directly from your business system, eliminating manual data entry.


Ensure label accuracy – Automating your label printing process reduces human interactions which decreases the opportunity for error. Read how Nemak automated their labeling process to reduce errors and achieved 98% labeling accuracy.


More user-friendly label printing process – Eliminating unnecessary steps in the labeling environment creates a simpler labeling process for your print users, reducing stress and saving time.
When you should consider automated label printing
I want to make label printing easier for my users.
Creating a more streamlined process for your label printing users can be achieved through features in your label design software. Easily populate variable data with database connections, provide a more user-friendly label printing interface with forms, and remove the need for manual data entry by taking advantage of PortWatch.
I want to maintain a single set of labels in a central repository.
With print automation there is no need to upload templates to separate stations – one set covers it all. Instead of creating static labels, leverage label templates that can easily populate variable data with your print automation software.
I want to automate label printing out of my business system.
Your business system already contains all the necessary data you need to populate your labels, so why not take advantage of this? Eliminating manual data entry ensures the correct information is on your labels by integrating your labeling system with your ERP system, such as Oracle, SAP, NetSuite, and many more.
I want to centrally manage my print jobs.
Use print automation to control all your print jobs from a centralized location. Easily manage multiple workstations from the comfort of your desk.
How to automate printing with label design software
Populate variable data with database connections
The more data fields that need to be manually populated, the more room for error. Database connections are a feature in TEKLYNX label design software that enable label templates to pull variable data in from an existing database. This feature allows you to enter or select one key data element (such as the part number or order number), and all other data is automatically populated on the label.
Create a faster process for your print users with forms
Forms within TEKLYNX label design software allow you to customize your label printing experience. With the help of Form Editor and Form Designer, you can create your ideal printing process.

Form Editor is a simple way to organize print time data and enforce data entry. Form Editor gives you the ability to add drop-down menus, incrementing value fields, sliders, date pickers, radio buttons, and more, ensuring your labels are formatted correctly 100% of the time.

Form Designer separates the label design process from the label printing process. Print users simply find the label they want to print, select the number of copies needed, and click print, all without having to open the label design software. Separating the label design process from the print process removes the possibility of accidental label template changes, and it saves time by eliminating steps for print users.
Remove the need to manually type in data with PortWatch
Inputting data onto a label is time consuming and poses the risk of inaccurate data being printed. With PortWatch, you can completely remove the need for manual data entry! PortWatch is a powerful feature within TEKLYNX label design software that allows you to collect data from a port like a scanner, keyboard, or a scale. The data is then printed on to your label with no data entry involved. Fewer manual steps means less human error and a faster, more efficient label printing process.
Automating parts of your label printing process is a step in the right direction, but when you need to completely eliminate manual processes, try a fully automated label printing software solution.
Label Print Automation Software
With TEKLYNX' print automation software, SENTINEL, you can completely automate label printing, print to unlimited printers across your entire enterprise, and initiate printing directly from any business system.
How it works:
When the print user initiates a print request, the host system sends a data file to a network folder.
When the data file is created, a Windows event triggers SENTINEL to process the data file.
SENTINEL determines the label, data, and printer from the information sent from the host system and prints the label without any manual interaction!

Automated Label Printing Case Study
Dot Foods is the largest food industry redistributor in North America and has been helping companies move food products more efficiently and cost-effectively from the manufacturer to distributor since 1960. Headquartered in Mount Sterling, Illinois, Dot Foods serves over 1,100 food manufacturers across North America. As Dot Foods grew, their labeling needs did as well – and TEKLYNX was there to help.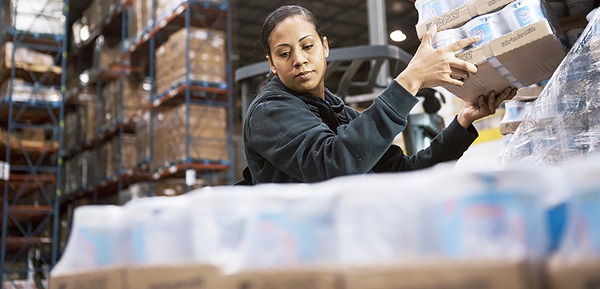 Dot Foods had to acquire a new labeling software that could support them with their labeling needs, create modern pallet labels and other custom labels for their customers, and provide technical support along the way for their 14 distribution centers in the United States, Canada, and Mexico.

Dot Foods collaborated with the TEKLYNX Enterprise Team to determine that CODESOFT, TEKLYNX advanced barcode label creation and integration software and SENTINEL, TEKLYNX print automation solution would be the right fit for Dot Foods. With their newly implemented SENTINEL automated label printing solution, Dot Foods was able to maintain their HA environment and gain reliability with their new labeling software in all 14 distribution centers across North America.
If you are interested in automating your label printing process to save time, create efficiencies, and reduce errors, request a demo of SENTINEL, or get in touch with a labeling expert today!
About Nick
Nick Recht is the Sales Manager for the Americas region at TEKLYNX, RFID and barcode label solution provider. He leverages his passion for using technology to add value to businesses and his 12 years of AIDC experience to help organizations of all sizes barcode better. When he is not working, he is driving one of his daughters to a practice of some sort or making/sampling beer from his garage brewery.
Subscribe to The Human Readable blog