TEKLYNX barcode label design and print automation solutions offer full integration with Global Shop Solutions manufacturing ERP system to create a seamless production experience for end users. By adding TEKLYNX label printing automation solution, SENTINEL, to the labeling environment, labels are automatically generated when actions occur in the ERP or other ancillary system. This functionality is particularly valuable to Global Shop Solutions customers, who find the increased label printing speed and reliability of the TEKLYNX software package far superior to other offerings.
Since partnering with TEKLYNX, Global Shop Solutions has improved its ability to provide customers with accurate, efficient, and reliable integrated barcode labeling solutions - leading to increases in label printing speed, improved system reliability, and complete label generation accuracy.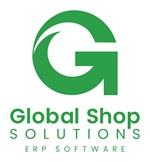 TEKLYNX barcode label print automation software uses a straightforward integration with Global Shop Solutions that makes labeling changes fast, reliable, and error-free.
"After a full evaluation, TEKLYNX received the highest reliability score from Global Shop Solutions, making it the obvious partner for our customers' barcode label printing needs."
- Adam Grabowski, Director of Marketing at Global Shop Solutions