Barcode Label Printing Software for Medium Sized Businesses 
BY: JENNA WAGNER / DATE: 01/08/2020 / TOPICS: LABEL DESIGN
Every business has a unique barcode labeling environment and requires a setup tailored to its needs. In medium sized businesses we often see the introduction of more labeling complexities due to higher volume of labels and product SKUs, more design and print users, heightened requirements, and integration needs. When you have a medium sized business, it's important to keep in mind a few things when it comes to your barcode label printing needs. Not only for efficiency in your business system, but for cost savings and business growth initiatives.
Here are four tips to help your medium sized business set up your labeling system for optimal efficiency:
Easy-to-Use Interface
An interface similar to familiar Windows applications will ensure that you'll quickly become comfortable and efficient using your barcode label printing software. It should be easy enough for everyone in your company to use. Having a familiar user interface reduces time spent training employees and can speed up the design and print process in production.
Ability to Integrate with a Variety of Business Systems
Your barcode label printing software should be capable of integrating with your existing business systems, including enterprise resource planning (ERP) systems, warehouse management systems (WMS), SAP, Oracle, and more. Integrating with your existing setup is a great way to reduce errors, print faster, and maximize savings.
Integrating applications eliminates the risk of human error for manually entered data on your labels. Having an integrated system provides a stable solution for your labeling environment.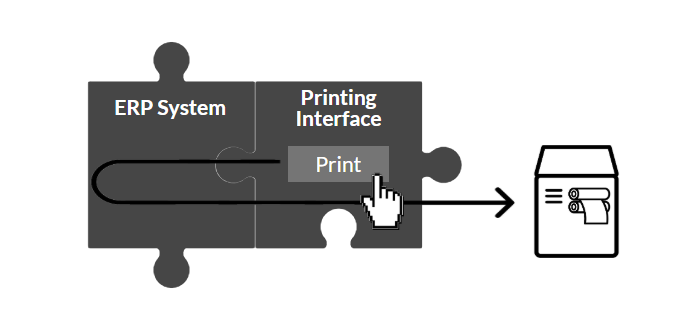 Efficiency is Key
In a medium sized business, having an efficient barcode label printing system is critical. Having a fully automated and integrated system can help save money and reduce waste. Integrating systems with your barcode labeling environment is a good way to start removing manual steps from your process.
One starting point in reducing manual steps is triggering printing from a device to increase efficiency in your process. PortWatch is an excellent tool within CODESOFT that offers a variety of benefits to help you cut manual steps. It lets you add variable data from a device, print labels instantaneously without any manual data entry, and simplify your printing process. PortWatch also has the capabilities to collect data from several devices such as:
Scanner
Scale
Keyboard
& more!


This in turn is reduces label waste, reduces human errors, and increases print speeds!
Ability to Scale with Your Business
Your barcode label printing software for medium sized businesses should have the ability to scale with your business long term, one that scales with you as your business grows. Having a system that has these abilities takes out potential challenges that arise once your business experiences growth, like implementing a new software and having to remake your labels.
Oakrun Farm Bakery started out a small but leading supplier of baked goods located in Ontario, Canada. Oakrun started out using TEKLYNX LABELVIEW, which met their current labeling needs but as their operations rapidly expanded, their labeling needs grew, and they required more licenses installed on machines throughout the bakery. This eventually led to more security concerns and issues surrounding increased demands in their IT department.
Oakrun decided to implement TEKLYNX CENTRAL, a browser-based, integrated enterprise label management software. As an existing TEKLYNX customer, the transition to the new system was painless. With the new software, they were able to streamline their entire labeling system and eliminate production downtime by restricting abilities between users – ensuring correct labels are printed every time.
Whatever your business size, TEKLYNX can grow with you and provide solutions for all labeling complexities and needs.
Let TEKLYNX assess your needs and get you started!
About Jenna
Jenna Wagner, Global Marketing Director, is a successful strategic marketing executive with over 20 years of marketing experience in software technology and consulting services. She is a creative, dynamic, results-driven leader who possesses a passion for developing her teams. She leverages her deep understanding of the solutions and industries she serves to deliver impactful customer value throughout the global supply chain to help organizations barcode better.
Subscribe to The Human Readable blog