How to Make Nutrition Labels for North America
BY: TRAVIS WAYNE / DATE: 09/09/2021 / TOPICS: FOOD & BEVERAGE, LABEL DESIGN, REGULATORY COMPLIANCE
The nutrition label is a critical piece of information for consumers when making purchasing decisions, but for food manufacturing companies, the label is much more than calories and an ingredient list. Although changes to food labeling requirements are infrequent, when changes are made, they can be substantial. Companies need to know how to make a nutrition label and be aware of any regulatory changes to reduce any negative impact an inaccurate label can incur such as fines, recalls, wasted materials, or negative consumer perception.
Over the last five years, the United States (U.S.) and Canada have been in a transition period to give the food and beverage industry time to implement changes introduced in 2016 to nutrition fact labels. The U.S. deadline was January 1, 2021, and the deadline for Canada is December 14, 2022. Meanwhile, Mexico recently announced changes and are currently in a transition period that ends October 1, 2025. It is important that the food manufacturers pay attention to the requirements for all three North American countries because there are a lot of similarities and slight differences between the nutrition labeling regulations. Food manufacturers must comply with labeling requirements in any areas their product is sold.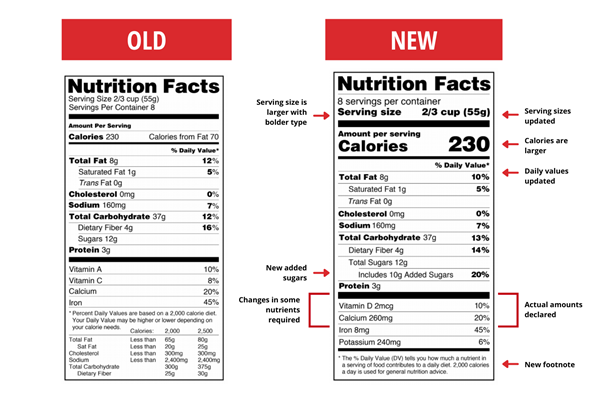 Creating Nutrition Labels for the U.S.
Calories must be in large font
Calories from fat are no longer required
Serving sizes updated to reflect realistic portion sizes, also must be large font and bold
Added Sugars is a new requirement
Vitamin D and Potassium are required while Vitamin A and C are now voluntary
Dual columns are required if a food can be consumed in multiple sittings
Percent Daily Values and footnote updated
To learn more about the changes made to the nutrition label in the US, download the Navigating Food Labeling Requirements eBook.
Creating Nutrition Labels for Canada
Calories must be in large font with more white space surrounding
Calories from fat are no longer required
Serving sizes updated to reflect realistic portion sizes
Order of ingredients updated so nutrients that contribute to calories are listed first
Sugars must be grouped together on the ingredient list
Percent Daily Value required for sugars
Potassium is required while Vitamin A and C are voluntary
Measurements and Percent Daily Value are required to be listed for vitamins and minerals
Footnote updated
Creating Nutrition Labels for Mexico
Sugars must be grouped together on the ingredient list
Added Sugars and Trans Fat are required
List of allergens is updated and required to be in bold
Front of Package declarations required for excessive calories, sugars, fats (saturated and trans), and sodium
Label header updated from Nutritional Information to Nutritional Declaration
Voluntary ingredients updated units of measurement
How Label Templates Can Help You Create Nutrition Labels
TEKLYNX advanced barcode labeling solution, CODESOFT, helps companies easily create, manage, and update nutrition fact labels. With the help of nutrition label templates, companies can establish their nutrition fact label and select the correct data directly in the software to print accurate labels in accordance with the varying nutrition labeling requirements where products are being sold. TEKLYNX also offers sample nutrition fact labels for companies to leverage to jumpstart the process!
Download a free 30-day trial to start creating and managing your nutrition fact labels with CODESOFT barcode label software.
About Travis
Travis Wayne is the Product Manager at TEKLYNX. Travis applies his 20+ years of IT and health sciences experience to empower businesses to streamline operations and barcode better by applying software and technology. He works to continually improve TEKLYNX' strategic planning, product and project management principles, and cross-functional communications. When not working, he enjoys many outdoor activities with his wife and two children.
Subscribe to The Human Readable blog