How to Create GHS-Compliant Labels
BY: TRAVIS WAYNE / DATE: 07/09/2020 / TOPICS: CHEMICAL, REGULATORY COMPLIANCE
For chemical manufacturers, importers, distributors, and employers in the US, GHS compliance is a requirement. Shipping chemicals without proper GHS labeling, or labeled under old HazCom standards, can result in fines and penalties against your business. Improperly labeled chemicals could potentially result in injury or death, making GHS-compliant labeling procedures critical to operations. Within this blog post, we will show you how to create GHS compliant labels with TEKLYNX software.
What is GHS?
GHS stands for Globally Harmonized System of Classification and Labeling of Chemicals. This is an internationally agreed-upon standard managed by the United Nations that was set up to replace the assortment of hazardous material classification and labeling schemes previously used around the world.

The Final Rule states that all chemical manufacturers, importers, distributors, and employers must comply with all modified provisions. Distributors can no longer ship chemicals labeled under the old HazCom Standard. Employers must update alternative workplace labeling and hazard communication programs and provide additional employee training for newly identified physical or health hazards.


Two Parts of GHS Compliant Labeling
1. Safety Data Sheets (SDS)
Updating your SDS, formerly known as Material Safety Data Sheets (MSDS), is a crucial component of GHS compliance. SDS are kept on file to provide detailed information about each chemical used, produced, or sold by your company. Below is an example: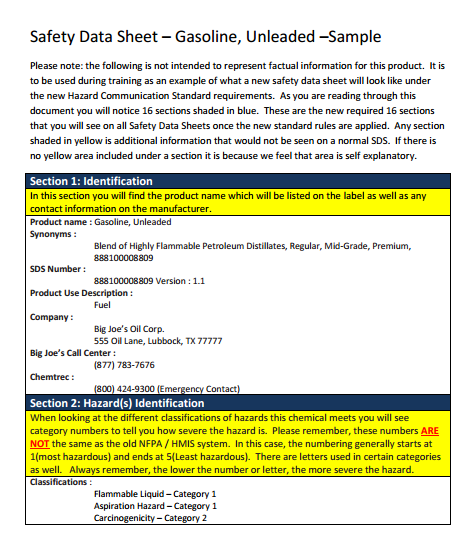 2. Label Design & Printing
A GHS compliant label contains six required elements to help aid in the identification of chemicals and their hazards:
Product name or identifier
Signal word
Hazard statements
Precautionary statements
Supplier identification
Pictograms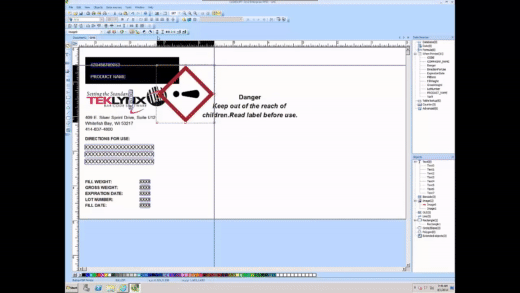 Now that you know what GHS-complaint labels are and what they must contain, let's breakdown how to create GHS compliant labels.


How to Create GHS-Compliant Labels
Creating GHS-compliant labels doesn't have to be complicated - with the right tools and technology, printing compliant GHS labels can be as simple as the push of a button! Let's break it down with TEKLYNX labeling software. The first step is creating your GHS compliant labels.


GHS Label Creation with CODESOFT
With TEKLYNX advanced RFID and barcode label software, CODESOFT, you can set your business up for success by:
Adding pictograms and hazard statements to labels
Creating labels with necessary HazCom statements from Safety Data Sheets
Creating user rights and enabling label security controls


TEKLYNX Success Story with CODESOFT
BeanTown Chemical was able to achieve complete GHS compliance with over 7,000 products and over 5,500 unique chemicals with the implementation of CODESOFT. "Labeling is one of the most daunting projects you can have in the business. There are a lot of regulations," states Barry Singelais, President of BeanTown Chemical. "It is very difficult to find a product that will allow you to do it efficiently and affordably because there are certain requirements for color, where data should be placed, what the pictograms should look like and how many to display, depending on the hazard. There are so many individual components of GHS. Many packages we found could do 10 out of 12 of the components, but we weren't finding a lot that could do all 12," Singelais said. "CODESOFT could, and that's why we chose it."
Manage GHS-Compliant Labels
Often, the need for a single, unified solution to handle label design, approval, printing, and reporting arises.
GHS Label Management with TEKLYNX CENTRAL CFR
With TEKLYNX CENTRAL GHS, you can seamlessly comply with GHS label regulations with maximum traceability, accurately classified chemicals, and HazCom elements for all types of labels and Safety Data Sheets. You can also:
Manage unlimited printers from a single server
Enable label approval with electronic signatures
Create custom reports to show complete document history
Pull symbols and hazard elements from a centralized database for GHS-compliant labels
Automate labeling process with central management to ensure process enforcement and additional control
TEKLYNX Success Story with TEKLYNX CENTRAL GHS
Shepherd Material Science implemented TEKLYNX CENTRAL GHS and was able to improve workflow by giving production operators the power and ability to print necessary GHS-compliant labels in a more time-efficient, autonomous manner, while maintaining labeling accuracy. "The implementation of the new labeling system inspired us to take a blank slate approach to our sample department's entire labeling process. It facilitated our move to a lighter weight, more durable and eco-friendly shipping container, saving us shipping costs on every sample order. With over 10,000 sample orders a year you can see how those savings quickly add up," states Diana McDonough, Senior Developer, Shepherd Information Systems.
On-Demand Color Labels for Your GHS-Compliant Labels
Saving money and reducing waste are two goals for manufacturers around the world, especially when it comes to their label printing process. It may sound easier to outsource your label creation, which is usually called a 2-Step Process, but that is not the case. If you are still using the 2-Step Process with your GHS-compliant labels, you're probably ending up with labels that have mistakes such as:
Empty pictogram frames
Misplaced icons
Overlapping borders and symbols
Large black over-strikes


Your solution? On-Demand Color Labeling. This approach allows companies to create smart label templates that incorporate variable data & images, so you can design and print GHS-compliant labels as you need them. This eliminates the risk of errors due to print misalignment that happens when you use pre-printed stock. Printing labels on-demand eliminates inventory of pre-printed label stock and associated label waste due to misprints, which can result in total label cost reduction. Epson's line of ColorWorks label printers work seamlessly with TEKLYNX native printer drivers that enables true WYSIWYG (What You See Is What You Get) on-demand color label printing. With on-demand color printing you'll end up with:


Faster design & print processes
The ability to eliminate outsourcing
Lower costs for you and your company
Full control of your GHS labeling environment
Accurate data on your GHS labels


Now's the time to start creating and managing your GHS-compliant labels. Click below to get started!

Design GHS Labels Manage GHS Labels
About Travis
Travis Wayne is the Product Manager at TEKLYNX. Travis applies his 20+ years of IT and health sciences experience to empower businesses to streamline operations and barcode better by applying software and technology. He works to continually improve TEKLYNX' strategic planning, product and project management principles, and cross-functional communications. When not working, he enjoys many outdoor activities with his wife and two children.
Subscribe to The Human Readable blog