Top Trends in Enterprise Labeling for 2021
BY: NICK RECHT / DATE: 06/08/2021 / TOPICS: MANUFACTURING, ENTERPRISE LABEL MANAGEMENT, LABEL TRACEABILITY, PRINT AUTOMATION, CLOUD LABELING
Embracing innovation through cloud-hosted technologies, being agile enough for disaster recovery and business continuity, and speed of transformation through establishing simple integrations are among the top trends we're seeing in enterprise labeling for 2021, as well as the continuing need to meet ever-evolving labeling regulations this year and beyond.
Cloud Technology Adoption Continues to Accelerate
"Cloud-first policies and cloud migration are top of mind for senior IT leaders, particularly in enterprise environments," and 90% of companies expect cloud usage to exceed prior plans due to COVID-19 stay-at-home or work-from-home policies continuing into 2021, according to the Flexera 2021 State of the Cloud Report. Optimizing existing cloud use remains at the top of companies' 2021 priority list, followed by migrating more workloads to the cloud.
By leveraging cloud storage for label templates, such as Google Drive or OneDrive, and connecting label templates to cloud-based spreadsheets or cloud-hosted ERPs, authorized users are accessing, editing, and printing labels from anywhere with an internet connection.
As our customers embrace cloud technology and some companies find that public cloud providers, such as AWS, offer a more reliable option of business continuity, our enterprise labeling solutions are enhanced to support their current and future needs. With CODESOFT and SENTINEL 2021, you can easily access data on-demand and print automatically from a cloud-based ERP system, leveraging OData with RESTful API.
Agility and Disaster Recovery are Critical
The ability for manufacturers to increase capacity or adjust production, without major interruptions in labeling workflows, is an important trend we're seeing in 2021 and the post-pandemic era as organizations are recovering from the disruption to production and supply chains experienced in 2020.
More companies are turning to enterprise labeling solutions to support business continuity and High Availability—or always on—manufacturing environments.
HIGH AVAILABILITY LABEL PRINT AUTOMATION USE CASE
Dot Foods is the largest food industry redistributor in North America and has been helping companies move food products more efficiently and cost-effectively from the manufacturer to distributor since 1960. Headquartered in Mount Sterling, Illinois, Dot Foods helps 1,100 food manufacturers within their 14 distribution centers across North America.
Dot Foods collaborated with the TEKLYNX Enterprise Team to determine that CODESOFT and SENTINEL would be the right fit for Dot Foods. This solution would help Dot Foods meet their internal labeling security requirements to maintain a High Availability environment, have the ability to automate printing to their large volume of printers, and included TEKLYNX world-class technical and customer support before, during, and after implementation. Read the full case study.
Enterprise labeling solution SENTINEL 2021 includes an automatic back-up server function, so if your primary server shuts down, your secondary server automatically becomes the primary server. Once your primary server is up and running, the secondary server switches to back-up, so downtime in your labeling process is one less thing to worry about.
Simple Integrations Supporting Speed of Transformation
Some manufacturers considering software solutions continue to weigh two main options: invest in custom applications or purchase off-the-shelf software solutions. The trend we're seeing with our customers around the globe is clear: No more custom enterprise labeling applications.
While a deep custom integration can sound ideal at first, when it comes time to make quick system changes or upgrades, it can take days or weeks to complete to ensure your custom labeling system is working correctly. In response, organizations are moving towards highly configurable off-the-shelf enterprise labeling solutions—especially when integrating with SAP, Oracle, or another business system—to avoid complex system integration and constraints.
Off-the-shelf enterprise labeling solutions:
Come at a fraction of the cost of custom solutions.
Support seamless upgrades and reduce the risk of system changes stopping production.
Are easier and faster to deploy, support, and train new staff on.
The impact of COVID-19 is certain to have lasting effects on various aspects of the manufacturing industry, including staffing, even after cases subside and vaccines continue to roll out. By integrating your label printing software with a business system to enable automatically triggering print jobs, fewer people are needed to keep your labeling process running and new users don't need to manually open label files, enter critical data, or select the correct printer and quantity to print. Automating your labeling process significantly reduces the number of fingerprints, or human interactions, meaning fewer opportunities for error, reduced waste, and money saved.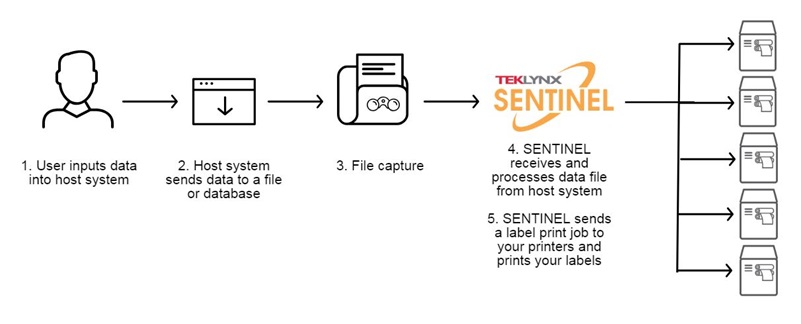 Compliance Is Still Important As Ever
Government-required labeling regulations continue to evolve and vary by industry to keep consumers informed and safe:
The pharmaceutical industry is faced with one of the most significant challenges in history—the rapid development and distribution of COVID-19 vaccines—spotlighting the need for GS1 standards and barcode implementation to secure public trust in the vaccine supply chain, according to the Securing Trust in the Global COVID-19 Supply Chain study.
The U.S. Food and Drug Administration (FDA) announced its uniform compliance date for final food labeling regulations that are issues in calendar years 2021 and 2022.
The emerging cannabis industry is confronted with strict—and quickly changing—state, federal, and international labeling regulations for a variety of cannabis products.
Many industries are regulated to enforce labeling workflows and ensure that the same process is followed every time a label is generated. Enterprise labeling solution LABEL ARCHIVE gives you full visibility into label design, approval, and printing to support compliance with industry regulations and internal process requirements. Enhancements in the 2021 version of LABEL ARCHIVE include a modernized web interface and a new label request workflow to extend label tracking farther than ever before.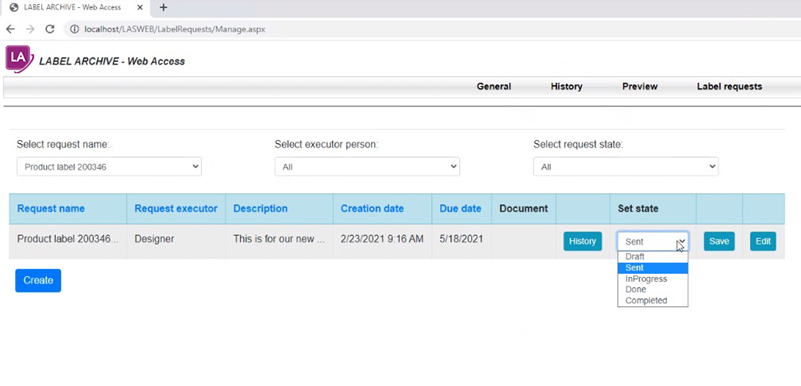 STAY AHEAD OF ENTERPRISE LABELING TRENDS WITH TEKLYNX
Get in touch with a labeling expert at TEKLYNX to discuss how our 2021 enterprise labeling products can help your company barcode better.
About Nick
Nick Recht is the Sales Manager for the Americas region at TEKLYNX RFID and barcode label solution provider. He leverages his passion for using technology to add value to businesses and his 14 years of AIDC experience to help organizations of all sizes barcode better. When he is not working, he is driving one of his daughters to a practice of some sort or doing a project around the house.
Subscribe to The Human Readable blog