Date: 06/15/2023 / Category: Awards, Press releases
Annual awards program recognizes innovation in the global supply chain technology and logistics industry.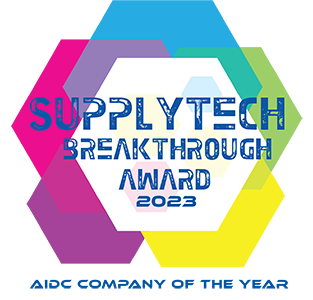 TEKLYNX International, known globally for their barcode labeling software solutions, today announced being recognized with the AIDC Company of the Year award in the annual SupplyTech Breakthrough Awards program conducted by SupplyTech Breakthrough, a leading independent market intelligence organization that evaluates and recognizes technology companies, products, and services in the supply chain technology and logistics industry around the globe.
This award recognizes TEKLYNX for standout services and global labeling product offerings. Being named AIDC Company of the Year emphasizes the dedication and commitment from TEKLYNX to offer secure, efficient, and reliable labeling solutions that meet industry standards and regulations, minimize errors and labeling-related product recalls, and help companies around the world barcode better.
"At TEKLYNX, we are very intentional about our people, processes, and products. We want to ensure all we do aligns with our global mission to help the supply chain work better. Thank you to SupplyTech Breakthrough for recognizing we work around the clock to differentiate ourselves through customer support and innovation," said Thierry Mauger, TEKLYNX International President. "We take immense pride in knowing our software solutions contribute to the growth and success of our customers."
TEKLYNX also cares about the full lifecycle of barcode labels. Label design, print automation, automatic label approval workflows, user roles and permissions, full audit history of changes, comments, revisions, and print history for every label, plus centralized label management is all within the TEKLYNX software suite: LABEL MATRIX, LABELVIEW, CODESOFT, SENTINEL, LABEL ARCHIVE, and TEKLYNX CENTRAL.
TEKLYNX serves the simple labeling needs of small businesses to the complex integrated labeling processes across global manufacturing companies. Plus, working closely with technology partners and printer manufacturers, TEKLYNX develops native printer drivers to provide the best print quality and fast print speeds, and integrates seamlessly with business systems to reduce manual data entry and the potential for labeling errors. The scalability, quality, and flexibility of TEKLYNX software solutions, plus their unparalleled customer support, sets them apart in the AIDC space.
The mission of the annual SupplyTech Breakthrough Awards program is to conduct the industry's most comprehensive analysis and evaluation of the top technology companies, solutions, and products in the supply chain and logistics industry today. This year's program attracted more than 1,400 nominations from over 15 different countries throughout the world.
"We're honored to award TEKLYNX 'AIDC Company of the Year!' The supply chain is the lifeline of manufacturing, and rapidly changing environments can disrupt that process. More than ever, manufacturers are looking at barcodes and how their labeling process can function more efficiently and accurately - not to mention securely," said Bryan Vaughn, Managing Director of SupplyTech Breakthrough Awards. "TEKLYNX is an outstanding example of an AIDC organization that breaks through the market with its scalable software solutions and unparalleled customer support. As supply chain needs are changing quickly, their labeling solutions can evolve and position their customers for a successful future."
More than 750,000 companies in over 170 countries trust TEKLYNX products and the people behind them. Learn more at teklynx.com.
ABOUT TEKLYNX INTERNATIONAL
TEKLYNX International helps supply chains work better. Today, more than 750,000 companies in over 170 countries trust TEKLYNX integrated barcode and RFID label design products and the people behind its solutions to make barcode labeling operations efficient, accurate, secure and industry compliant. With over 30 years of experience, TEKLYNX is the global leader because of its reliable software and superior customer support. To learn more about how the TEKLYNX community helps companies across industries worldwide, visit teklynx.com or call TEKLYNX in your region. Barcode Better™ with TEKLYNX.
ABOUT SUPPLYTECH BREAKTHROUGH
Part of the Tech Breakthrough organization, a leading global provider of market intelligence and recognition platforms for technology innovation and leadership, the SupplyTech Breakthrough Awards program is devoted to honoring innovation and market disruption in supply chain & logistics technologies, services, companies and products around the world. The annual SupplyTech Breakthrough Awards provide public recognition for the achievements of SupplyTech companies and products in categories including Inventory Management, Supply Chain Visibility, Transportation Management, Material Handling, IoT and Robotics, and more. For more information visit SupplyTechBreakthrough.com.