Maximize the ROI of Labeling Software with Document Printing
BY: NICK RECHT / DATE: 09/21/2023 / TOPICS: MANUFACTURING, LABEL DESIGN
Label design software is a powerful tool for creating high-quality barcode labels for manufacturing materials, parts, products, cartons, pallets, shipping containers, etc. It can also be used to print documents like pick lists, pack lists, bills of material, purchase orders, work orders, manufacturing travelers, etc.
If you print labels with variable information, that same variable information is likely what's also used on pick lists, pack lists, bills of material, and purchase orders. Leveraging your label design software to print corresponding documents saves time and money, improves the integrity of your data across labels and documents, and maximizes the return on investment (ROI) for software you've already invested in.
TEKLYNX label design software and enterprise label management solutions offer a variety of features that help improve the efficiency and accuracy of your labeling processes.
ROI of using label design software to print documents
Executing label and document printing from your label design software can improve your ROI by:
Reducing costs: Purchasing and maintaining multiple software applications can be expensive, especially for small businesses. Using label design software for printing labels and documents eliminates the need to buy multiple applications, which can save you a significant amount of money in the long run between the initial investment and cost of upgrades.
Increasing efficiency: Switching between label design software and another application for documents is time-consuming and inefficient. Using one software application for multiple print jobs can help you streamline workflows and improve efficiency.
Improving data consistency: When you use multiple software applications, it can be difficult to keep data consistent across all the applications. Leveraging the same database connection established for your labels to also create corresponding pick lists, pack lists, bills of material, purchase orders, work orders, or manufacturing travelers helps ensure the data is accurate.
"Being able to leverage my existing TEKLYNX labeling solution to print and rapidly update my pack lists was a game changer," said Rob Case, Lead Application Analyst at Moen. "There's nothing better than getting all we can from an existing investment."
Creating documents in CODESOFT
CODESOFT supports single and multi-page label or document template design using GridField, a dynamic object creation tool that allows you to manipulate and alter your dynamic templates quickly. You can manage multiple data types (text, barcodes, images) in one object, making it a more efficient way to adjust or reorganize data within a label or document template.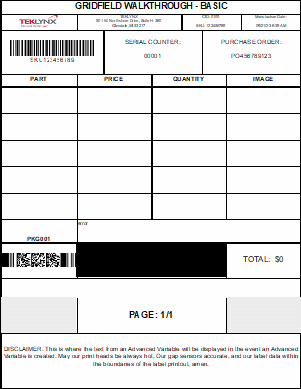 With GridField, you can add multiple database records to one template, which increases flexibility for creating labels and documents – this is extremely useful for businesses that print labels along with pick lists, pack lists, bills of material, purchase orders, work orders, or manufacturing travelers.
For example, leveraging GridField, you can generate a list of products for a purchase order and include the part numbers, prices, quantities, and images. This feature automatically collapses and expands the grids (or cells) to accommodate the data, so there's no need to manually resize the template one database record is longer than another. GridField also automatically spans across multiple pages based on the number of database records that need to be printed.
The benefits of using GridField
Reduces label and document template creation time.
Consolidates many objects into one object.
Simplifies complex label and document designs.
Ensures data is structured properly based on the database records being pulled into the template.
Maximizes the investment of your product.
Document printing use case
GridField allows Entertainment Earth to more easily and efficiently design and print work orders. For example, Entertainment Earth uses GridField when shipping Amazon packages. When order data is received, GridField organizes the details and pricing for all items within the order into a neat and efficient grid on the work order.
To learn more about GridField, common uses, and how to create and configure GridField objects, you can watch our Using GridField in CODESOFT webinar recording.
Note: Attending the basic and advanced training webinar for CODESOFT is highly recommended for new users of the software, as basic and advanced training topics are not covered in the GridField webinar.
Let us help you get the most out of your label design software
TEKLYNX Customer Support can answer your questions and we offer professional services like custom label design if you want to leverage features like GridField to help you maximize your investment, but don't have internal resources to spare. Regardless of the complexities and customization required by your business, or the size of your label design or document printing needs, our professional services team can help get you up and running quickly without using up your internal resources.
If your business prints pick lists, pack lists, bills of material, purchase orders, work orders, or manufacturing travelers as well as labels, consider streamlining by doing all of that through your label design software. Download a 30-day trial of CODESOFT to get started with label and document printing.
You can also download a GridField label sample file to use during your trial.
About Nick
Nick Recht is the Sales Manager for the Americas region at TEKLYNX RFID and barcode label solution provider. He leverages his passion for using technology to add value to businesses and his 14 years of AIDC experience to help organizations of all sizes barcode better. When he is not working, he is driving one of his daughters to a practice of some sort or doing a project around the house.
Subscribe to The Human Readable blog