Choosing the Best Barcode Label Printing Software for Large Businesses
BY: NICK RECHT / DATE: 02/11/2020 / TOPICS: ENTERPRISE LABEL MANAGEMENT
When it comes to barcode label printing software for large businesses, there are quite a few everyday headaches that should disappear and make everyone's lives easier – manual errors, wasted time, and unorganized label templates. What if I told you that there is a way?
At TEKLYNX, we understand that large businesses have unique labeling requirements, and sometimes the labeling process becomes too complex for a standalone application to handle. With enterprise label management solutions, your complex labeling process is streamlined to a simple set of steps that is easy for your team to master, saving you time and money. Large businesses can improve operational efficiency through three important labeling strategies: print automation, secure label management, and browser-based printing.
Print Automation
Manual processes in a barcode labeling environment are a common pain point that cuts deep into efficiency at large businesses with many employees and high production volumes. Labeling software is a mission critical system for large businesses and should not be an afterthought when exploring other crucial business systems like ERP or WMS. Implementing business systems at different phases for various large business needs often leads to multiple disparate systems, brands, and versions of software in your technology environment, resulting in an inefficient labeling process that leaves room for error. If your current labeling process looks like this:
Open the design software
Browse for the correct label
Select the right printer
Populate the quantity to print
Click print
Pray it's right


Then it sounds like print automation could add significant value to your organization. Print automation can be defined as, a centralized technology that replaces the manual processes of triggering a print job within a labeling environment. There is no need to open a label, browse for templates, or manually populate variable label data from multiple databases. You can select the correct printer and just click print.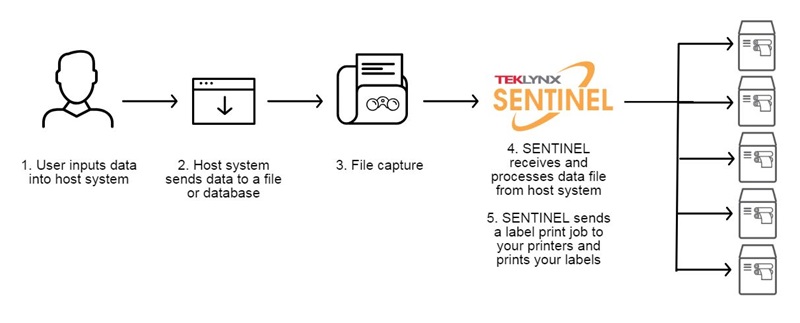 "Prior to our SENTINEL implementation, we would produce and update each label for every sales order we processed and the process itself would take longer than actually entering the sales order in our system. SENTINEL enables us to use our ERP system to print labels, which means labeling is no longer a bottleneck." States Director of Information Technology at Flex-Strut Inc, Terry Kakavros. Flex-Strut Inc was able to increase their labeling accuracy by 25%, eliminate their labeling bottleneck, and increase their label printing speed by 100% all with the implementation of SENTINEL.
Secure Label Management
Many large businesses are required to enforce labeling workflows and ensure that the same process is followed every time a label is generated to ensure they are complying with regulations, internal standards, or step-by-step processes. Some of the top industries that find label security and traceability critical to operations are:
Healthcare
In the healthcare industry, companies must comply with the Food and Drug Administration's Code of Federal Regulations (CFR). Title 21 CFR Part 11 requires electronic signatures on label files to ensure the signatures are not copied or otherwise transferred to falsify another electronic record.


Food and Beverage
In the food industry, strict labeling requirements aim to protect consumers, especially where allergies are concerned. Mislabeled food can trigger a recall and, in the event that you cannot track the source, millions of dollars could be lost.


Shipping and Receiving
In the shipping and receiving industry, traceability is crucial to success in order to maintain records of label creation, approval, and printing.


By implementing label security and traceability software, you can control access to label files to establish permissions to control access, implement a multi-stage approval process, and keep record of changes, comments, revisions, and print history for every label in any industry.
Check out this quick video to see what label security and traceability software can do for your large businesses.
Browser-Based Printing
Most large businesses have multiple locations, and many of them need to enable labeling at each location - state to state or even globally. Attempting to organize your label templates correctly and have an accurate record across each facility can become a challenge. On top of that, future growth is always top of mind for large businesses, so having scalable barcode label printing software is a must to prevent having to make multiple software changes year after year.
MicroVention, a leading medical device company, had a very similar situation. They began to experience exponential growth where they had to re-evaluate their current labeling operations in order to gain efficiency across multiple facilities that expanded well beyond the United States borders. By implementing the enterprise label management system, TEKLYNX CENTRAL, MicroVention saw results such as:
Ability to print from anywhere in the world to anywhere in the world
Ability to print labels to virtually unlimited number of printers
Ability to manage hundreds of printers in multiple locations from a single server
Ability to record audit trails throughout label life cycles
Check out this quick video to see how else MicroVention utilized TEKLYNX CENTRAL to improve their labeling environment.
To learn more about barcode label printing software for large businesses, get in touch with one of our labeling experts today!
About Nick
Nick Recht is the Sales Manager for the Americas region at TEKLYNX RFID and barcode label solution provider. He leverages his passion for using technology to add value to businesses and his 14 years of AIDC experience to help organizations of all sizes barcode better. When he is not working, he is driving one of his daughters to a practice of some sort or doing a project around the house.
Subscribe to The Human Readable blog