Date: 06/05/2019 / Category: Awards
TEKLYNX was named a winner of a People's Choice Stevie® Award for Favorite New Products in The 17th Annual American Business Awards today, recognizing TEKLYNX 2018 products LABEL MATRIX, LABELVIEW, CODESOFT, LABEL ARCHIVE, and SENTINEL.
The American Business Awards are the nation's premier business awards program. All organizations operating in the U.S.A. are eligible to submit nominations – public and private, for-profit and non-profit, large and small.
The People's Choice Stevie Awards for Favorite New Products are a feature of The American Business Awards in which the general public can vote for their favorite new products and services of the year. More than 43,000 votes were cast in 51 people's choice categories this year. All new products and services to be honored in the ABAs' new product categories were included in people's choice voting.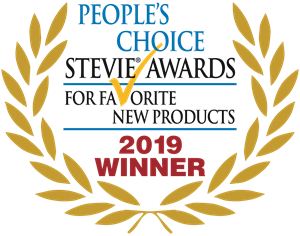 More than 3,800 nominations were submitted to this year's American Business Awards for consideration in a wide range of categories, including New Product or Service of the Year, Most Innovative Company of the Year, Management Team of the Year, Best New Product or Service of the Year, Corporate Social Responsibility Program of the Year, and Startup of the Year, among others.
In addition to feature-rich end user driven enhancements, TEKLYNX 2018 product launch is historic because several of its product platforms have been completely updated, paving the way for future innovations in barcode labeling. "Our approach to product development and innovation is both thoughtful and pragmatic," comments TEKLYNX Vice President Alex Guderzo. "We've invested heavily in product development resulting in barcode labeling solutions that will not only benefit end users today, but well into the future."
Click here to download a free 30-day trial of TEKLYNX 2018 LABEL MATRIX, LABELVIEW or CODESOFT. To request a demo of SENTINEL or LABEL ARCHIVE, click here. TEKLYNX offers tiered solutions to meet the needs of companies of all sizes and industries and is uniquely designed to grow with companies over time. Today, TEKLYNX is the only barcode labeling solution provider to offer subscription licensing, allowing companies to start using TEKLYNX at a low cost of entry.
Details about The American Business Awards, the list of People's Choice Stevie Award winners, and the complete list of Stevie winners in this year's ABAs are available at www.StevieAwards.com/ABA.
About TEKLYNX
TEKLYNX International helps supply chains work better. Today, more than 750,000 companies in over 170 countries trust TEKLYNX integrated barcode and RFID label design products and the people behind its solutions to make barcode labeling operations efficient, accurate, secure and industry compliant. With over 30 years of experience, TEKLYNX is the global leader because of its reliable software and superior customer support. To learn more about how the TEKLYNX community helps companies across industries worldwide, visit teklynx.com or call TEKLYNX in your region. Barcode Better™ with TEKLYNX.
About the Stevie Awards
Stevie Awards are conferred in seven programs: the Asia-Pacific Stevie Awards, the German Stevie Awards, The American Business Awards®, The International Business Awards®, the Stevie Awards for Women in Business, the Stevie Awards for Sales & Customer Service, and the new Stevie Awards for Great Employers. Stevie Awards competitions receive more than 12,000 entries each year from organizations in more than 70 nations. Honoring organizations of all types and sizes and the people behind them, the Stevies recognize outstanding performances in the workplace worldwide. Learn more about the Stevie Awards at https://www.StevieAwards.com.