Date: 01/05/2010 / Category: Press releases, Awards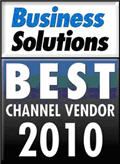 MILWAUKEE – Jan. 5, 2010 – TEKLYNX® International, the world's leading developer of software products for the Automatic Identification & Data Collection (AIDC) marketplace, has received a "Best Channel Vendor" award from Business Solutions magazine.
Based on a Web survey conducted with Penn State University, the ranking is based on seven criteria that are important to labeling software resellers and their customers.
In commenting on the designation, Melissa Utschig, TEKLYNX Director of Marketing Communications and Inside Sales, said, "Business Solutions magazine is the leading publication serving technology resellers and system integrators. For TEKLYNX to be recognized in this way demonstrates not only the quality of our products and services, but also our dedication to the channel."
"TEKLYNX certainly earned its spot on this year's Business Solutions Magazine Best Channel Vendors list," said Sue Bresee, publisher of Business Solutions magazine. "TEKLYNX rated exceptionally well overall in the Labeling Software category, but particularly high in Product Reliability and Product Features. Our survey results clearly show that TEKLYNX has many satisfied resellers.
"The response to our survey this year was excellent," continued Bresee. "We generated 12,073 votes from 1,354 BSM reseller subscribers. The 1,354 resellers represent an estimated $8.8 billion in annual sales, making this one of the largest surveys of its kind."
About TEKLYNX
TEKLYNX International is the leading software developer of AIDC products including software for label design, host connectivity, and data collection. Its software products feature the widest range of device and driver support in the industry. TEKLYNX is a Microsoft Gold Certified Partner and has connectivity relationships with multiple Enterprise Resource Planning (ERP) software providers. More than 600,000 companies in 120 countries rely on its integrated software solutions for supply chain automation, warehouse management, shipping and receiving, inventory control and asset management. The company is headquartered in Milwaukee with operations in the United States, Europe, Japan, China, and Singapore. More information on TEKLYNX International is available at www.teklynx.com.