Date: 03/01/2023 / Category: Company updates
TEKLYNX Americas is excited to announce the launch of the TEKLYNX eCommerce Storefront, giving customers another way to easily select and buy barcode label design software online for electronic delivery.
"We take customer feedback seriously, and when they asked for a faster way to purchase our software, we listened," said Doug Niemeyer, President & General Manager at TEKLYNX Americas. "Now, people can buy LABEL MATRIX, LABELVIEW, or CODESOFT anytime without being constrained by business hours; they can compare our software products or prices and generate price quotes independently; and they can upgrade to the latest version or renew their subscription licenses without even making a phone call. And if buying online isn't their preference, our team and resellers are here and happy to help when needed."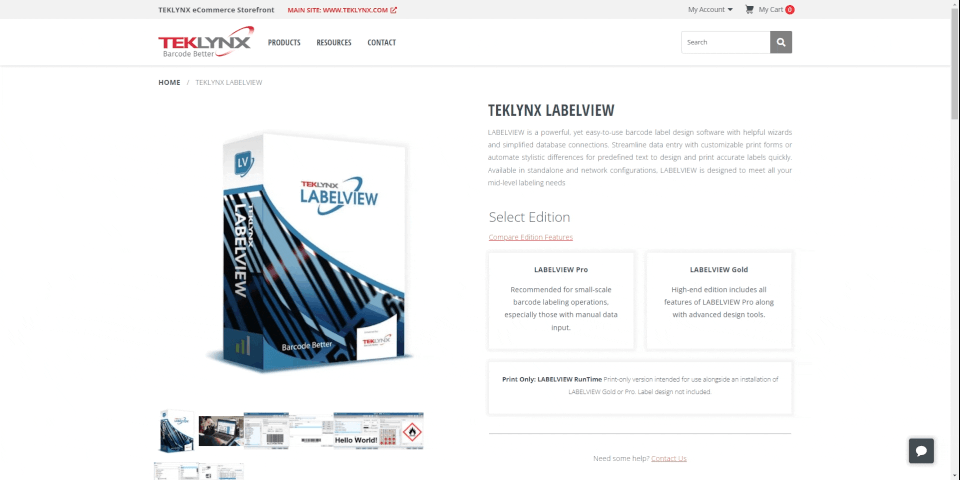 With the TEKLYNX eCommerce Storefront, customers in the market for labeling software can browse and configure their license based on their environment and company needs. Companies using a 30-day trial version of TEKLYNX barcode label design software can simply purchase a license online and activate their software before the trial expires to avoid downtime. Existing TEKLYNX customers looking to buy an additional license or renew their 1-, 3-, or 5-year subscription license can do so online 24/7 and have new licensing information delivered to their inbox within 30 minutes.
The TEKLYNX eCommerce Storefront supports:
Instant price quotes that can be saved or sent for approval
Live chat with sales representatives during business hours
Email delivery of installation files and licensing information
Online order history and software license lookup
Secure online payments
TEKLYNX barcode labeling software solutions are user-friendly, flexible, and reliable – plus TEKLYNX Customer Support continues to be the best in the industry. The ease of purchasing through the TEKLYNX eCommerce Storefront is one more reason for companies to choose TEKLYNX as their software provider.
Visit the new TEKLYNX eCommerce Storefront at shop.teklynx.com to browse and create an account to streamline your next purchase of LABEL MATRIX, LABELVIEW, or CODESOFT. TEKLYNX knows customers may need to purchase software coupled with printers or scanners and continues to partner with a global network of value-added resellers. If you buy TEKLYNX software online and need hardware as well, we can connect you with a value-added reseller.
The TEKLYNX eCommerce Storefront is provided by TEKLYNX Americas and serves the TEKLYNX Americas sales region, including North America, Central America & Caribbean, South America, and Australia & New Zealand. If you are looking to purchase your label design software for a region outside of the Americas business unit, please contact TEKLYNX in your region.