Date: 03/24/2020 / Category: Awards, Press releases
TEKLYNX International, the world's leading barcode and RFID labeling software developer and solutions provider, today announced Product Manager Travis Wayne has been named a 2020 Food Logistics Champions: Rock Star of the Supply Chain by Food Logistics. The esteemed list, featured in the March 2020 issue of Food Logistics magazine, recognizes influential individuals in the food and beverage industry whose achievements, hard work, and vision have shaped and attained milestones in safety, efficiency, productivity and innovation through the global food supply chain.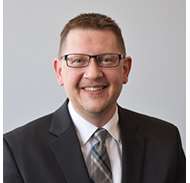 TEKLYNX Product Manager,
Travis Wayne

"I'm proud to be named a 2020 Food Logistics Champion: Rock Star of the Supply Chain because of TEKLYNX commitment to the global food supply chain," stated Travis Wayne, Product Manager, TEKLYNX. "At TEKLYNX, we stay aligned with food labeling regulations across the globe, new approaches for food traceability, and partner with customers in the food industry to achieve success. Advancing food labeling practices is essential to making educated decisions around our food choices. As the food industry continues to evolve it is essential for companies to be able to confidently adjust to new labeling requirements and improvements."
Wayne is a highly-respected supply chain thought leader and brings 15+ years of experience in Information Technology and Product/Project/Portfolio Management. In his role as Product Manager for TEKLYNX, Wayne is responsible for the development and success of TEKLYNX suite of barcode label design software solutions that streamline efficiencies for companies throughout the food industry.
Under Wayne's leadership, TEKLYNX has developed a streamlined governance model and refined product management processes, enabling increased product quality while decreasing time-to-market. Ensuring that barcode labeling software is automated, secure, compliant and scalable is crucial for the success of food industry customers. For example, in the past year, TEKLYNX successfully offered six new major version releases and ten point releases that continuously meet customer demands and needs, and stay on top of (or ahead of) food industry compliance.
TEKLYNX is the only barcode labeling solutions provider to offer subscription licensing – allowing food and beverage manufacturers, wholesalers and retailers to start using TEKLYNX for a low cost of entry – while offering a portfolio of tiered solutions that are designed to grow with companies over time. Some of the most renowned companies in the food industry rely on TEKLYNX.
To view the 2020 Food Logistics Champions: Rock Stars of the Supply Chain list visit foodlogistics.com and to learn more about TEKLYNX barcode labeling software solutions visit teklynx.com.