Date: 06/26/2013 / Category: Other
The Produce Traceability Initiative (PTI) is an industry-wide effort to improve efficiency and effectiveness of track and trace procedures through the produce supply chain. Do your labels comply with requirements of this initiative? If not, TEKLYNX can help.
Download a trial of CODESOFT or download a trial of LABELVIEW today!
In an effort to support the ongoing PTI, TEKLYNX designed our 2014 products with the ability to easily generate labels compliant with the necessary PTI label requirements. TEKLYNX label design software products, CODESOFT 2014 and LABELVIEW 2014, can help you comply with the requirements of the PTI and improve your labeling design process through:
Being the only label design software provider in the industry to offer Voice Pick codes built into our software package. Voice Pick codes are a major component in the label design requirement included in the PTI; they combine the Global Trade Item Number (GTIN), the lot code, and the pack date if present to create a unique 2- or 4-digit code.
Design wizards for the assisted generation of the barcode requirements included in the PTI. This includes wizards for the generation of a GS1-128 barcode (formerly called the UCC/EAN-128).
An easy upgrade path to TEKLYNX enterprise applications such as SENTINEL for automated enterprise label printing, LABEL ARCHIVE for label approval and secure label storage, or our all encompassing TEKLYNX CENTRAL solution that has the ability to enable compliant label printing for all your vendors and suppliers.
Once you have CODESOFT 2014 Enterprise or LABELVIEW 2014 Gold installed, you can download the samples we created (shown below) to comply with Wal-Mart's recent labeling requirements and the PTI.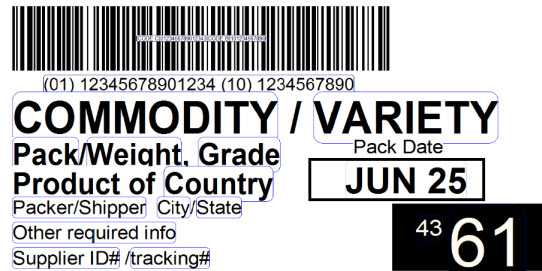 Download the CODESOFT Wal-Mart Voice Pick label sample.
Download the LABELVIEW Wal-Mart Voice Pick label sample.
Don't wait; begin the process to label compliance for PTI with TEKLYNX today.
Not sure which product is right for your organization? Compare the features and functionalities of TEKLYNX products side-by-side on our product comparison chart.
How to Create a Voice Pick Code