Date: 09/15/2021 / Category: Awards
For the fifth year in a row, TEKLYNX was named one of the 2021 Best Places to Work by the Milwaukee Business Journal.
"Every single position and person matter," explains Doug Niemeyer, TEKLYNX General Manager. "At TEKLYNX, that translates into what makes this a great place to work – our unwavering dedication to our employees. The fun we have together in and out of the office and how much we care about one another helps too – ping pong tournaments, birthday celebrations, happy hours, flexible schedules with remote work, bonus paid time off, community work, mentorship, and much more to keep our team happy and healthy."
This year's Best Places to Work Awards program drew about 150 nominations from Milwaukee-based companies, from those on the "micro" end with fewer than 25 employees up to those in the "extra-large" category with more than 200 workers. Regardless of size, all participating companies needed to have a large percentage of employees complete an online survey where they can express their job satisfaction and score their employer on a variety of attributes.
Employee scores were measured on how favorably they responded to questions in core areas including personal engagement, communication and resources, teamwork, retention, alignment with goals, trust with co-workers and senior leaders, manager effectiveness, job satisfaction, and more. The Milwaukee Business Journal then selected winners based on highest scores in each size category.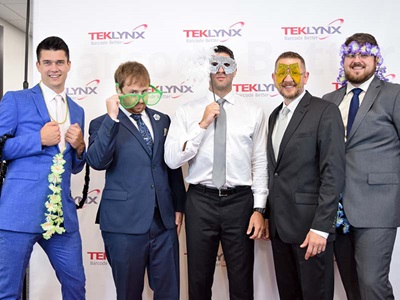 TEKLYNX Americas' distinctively fun and collaborative work culture, dedication to employee recognition and development, leadership team, and community involvement earned the company a top spot on this renowned list for the fifth year.
"I love working at TEKLYNX because it is like a home away from home," says Nicole Lepkowski, TEKLYNX Customer Support Manager. "We are able to have fun and laugh with each other and our customers. The environment is relaxed without the black-tie pressure."
At TEKLYNX, our employees work hard to make sure our end users and partners are taken care of. It's the people behind the products that help our customers and the supply chain work better.
Learn more about TEKLYNX career opportunities and what customers have to say.