Date: 09/24/2020 / Category: Press releases, Awards
Employee First Philosophy, Safe and Supportive Environment, and Fun Culture Place TEKLYNX on Distinguished List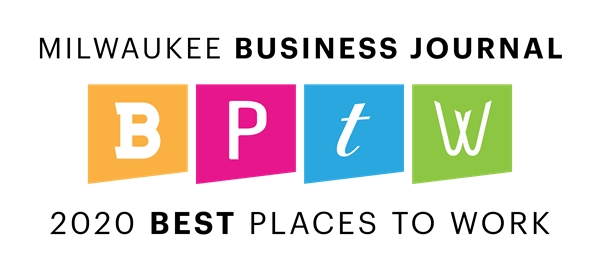 MILWAUKEE (September 24, 2020) - TEKLYNX International, the world's leading barcode and RFID labeling software developer and solutions provider, today announced TEKLYNX Americas has earned a coveted spot on the Milwaukee Business Journal's 2020 Best Places to Work list. Based on the results of confidential, company-wide employee surveys, TEKLYNX is among a select group of Southeastern Wisconsin companies recognized for creating stimulating work environments that make employees want to stay.
Approximately 180 firms were nominated for this year's awards and employees at the nominated companies scored their respective workplaces in core areas including personal engagement, communication and resources, teamwork, retention, alignment with goals, trust with co-workers and senior leaders, manager effectiveness and job satisfaction.
"We're honored to be named a 'Best Place to Work' for an impressive fourth time," states TEKLYNX General Manager Doug Niemeyer. "Our greatest asset at TEKLYNX is our team. The people that strive every day to help our customers barcode better is why we're the global leader in barcode label design software. At TEKLYNX, you'll find a collaborative, fun, customer-focused, and high-energy environment where we challenge the norm." Niemeyer credits the company's culture for its collaborative and positive response to the challenges faced in 2020, along with the ability to not only retain talent, but to enable employees to grow and stay connected.
A safe and supportive work environment, employee recognition program, a comprehensive development and training program, and workplace celebrations, are among just a few of the perks TEKLYNX employees enjoy. To learn more about TEKLYNX including employment opportunities visit teklynx.com.
About TEKLYNX International
TEKLYNX International helps supply chains work better. Today, more than 750,000 companies in over 170 countries trust TEKLYNX integrated barcode and RFID label design products and the people behind its solutions to make barcode labeling operations efficient, accurate, secure and industry compliant. With over 30 years of experience, TEKLYNX is the global leader because of its reliable software and superior customer support. To learn more about how the TEKLYNX community helps companies across industries worldwide, visit teklynx.com. Barcode Better™ with TEKLYNX.