Date: 08/22/2018 / Category: Press releases, Awards
Employee First Philosophy and Collaborative, Fun Culture Place TEKLYNX on Distinguished List
TEKLYNX International, the world's leading barcode and RFID labeling software developer and solutions provider, today announced TEKLYNX Americas has earned a coveted spot on the Milwaukee Business Journal's 2018 Best Places to Work list. Based on the results of confidential, company-wide employee surveys, TEKLYNX is among a select group of Southeastern Wisconsin companies recognized for creating stimulating work environments that make employees want to stay.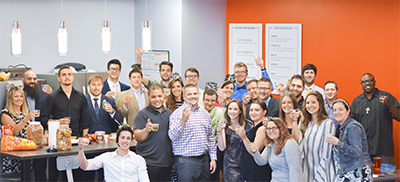 Approximately 125 firms were nominated for this year's awards and employees at the nominated companies scored their respective workplaces in core areas including personal engagement, communication and resources, teamwork, retention, alignment with goals, trust with co-workers and senior leaders, manager effectiveness and job satisfaction.
"We're honored to be named a 'Best Place to Work' for an impressive third time," states TEKLYNX General Manager Doug Niemeyer. "It's a measure of success as we work to provide a supportive, collaborative work environment in which our employees thrive." Niemeyer credits the company's culture with generating noteworthy business growth and retention rates as employees choose to stay at TEKLYNX year after year.
An employee recognition program, a comprehensive development and training program and workplace celebrations are among some of the perks TEKLYNX employees enjoy. To learn more about TEKLYNX including employment opportunities at its new Glendale headquarters located in the offices at Bayshore Town Center, visit teklynx.com.