Date: 03/02/2022 / Category: Awards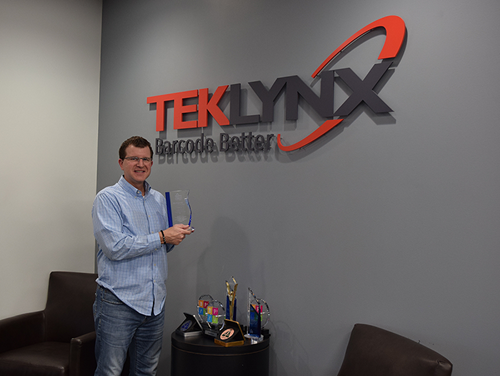 TEKLYNX is excited to announce we were selected as AIM North America's 2021 Organization of the Year Award. This annual award is delivered to a group that continues to provide a level of outstanding contributions and service to help further industry growth and relations.
"We want to send a huge thank you to the AIM North America Board for this award and recognizing our organization," said Doug Niemeyer, President and General Manager at TEKLYNX Americas. "We appreciate everything AIM does for its members and the AIDC industry as a whole."
TEKLYNX was honored with this award for being an organization that is intentional about our people, processes, and products – ensuring all we do aligns with our global mission to help the supply chain and manufacturers work better. AIM North America identified how TEKLYNX contributes to the growth of the AIDC industry through relationship building and helping companies barcode better.
"Congratulations to the award winners on their extraordinary accomplishments," said Mary Lou Bosco, CEO of AIM North America. "We are proud to recognize these leaders for their innovation and contributions to defining today's technology standards and empowering tomorrow's solutions."
At TEKLYNX, we look forward to continuing to serve our customers; evolve our label design, print automation, and label management solutions; and work collectively and collaboratively with other leaders in the field to push our industry forward.
The awards were presented during a virtual ceremony which can be viewed here.